Paul & Tracey's Travels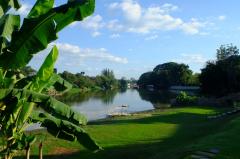 22nd Jan 2017 - Thailand
Journey north to Chiang Mai

Heading north
Today we are heading north from Bangkok to Chiang Mai - the second largest city in Thailand with a population of about 200,000. We had arranged for a cab to take us to the airport and this arrived at 10.15am in plenty of time for our flight at 1.15pm. Chiang Mai (meaning New City) is 435 miles north of Bangkok and the flight time was only 1hr 10 min.
On landing at Thailand's 4th largest airport, we got a cab the 3 miles or so to our hotel just near the city centre. The town of Chiang Mai sits along the River Ping, and is surrounded by mountains, which can be classed as foothills of the Himalayas. The city centre of Chiang Mai is surrounded by a walled moat almost perfectly square, and is known as the Old City - it is just a single square mile. The greater city area has over 300 Buddhist temples located within it.
The province of Chiang Mai is home to the country's highest mountain Doi Inthanon which is 8,400 feet high and is about 2 hours drive west of the city. 70% of the province is covered by mountains and vegetation. Wat Prah That Doi Suthep is Chiang Mai's most famous temple, which sits high on a hill and can be seen from all over Chiang Mai.
Did someone say free beer
On arrival at the hotel, we had a pleasant surprise. Reception informed us that we had a 'suite' and we would be checked in on the 7th floor. On arrival at this higher area, we found we had been given a 4 room suite, but more importantly had access to the exclusive lounge, which has a happy hour between 5.30pm and 7.30pm (a happy 2 hour me thinks), and during this time food and alcohol will be served free of charge ! I personally did not believe the alcohol would be free, so we had a little mini wager, and would test it later.
An initial excursion into Chiang Mai
In the meantime, we thought we would have a little wander around the immediate area. First stop we walked round to one of the bridges over the River Ping which is a fairly wide, quietly meandering river with barges anchored up and fisherman on the banks. Then we turned down one of the main streets that leads into the walled square mile. This was buzzing with tuk tuks, red pick up trucks that act as taxis here, and loads of mopeds. There are lots of shops offering trekking, elephant themed trips, climbing etc. Also lots of eating places and alternative clothing shops. As you walk around you realise that there are a lot of Europeans here who usually fall into two categories - back packers or aged hippies.
After a while we decided to return to the hotel to conclude the wager - free alcohol or not. Well, sure enough, free food and alcohol it was. The red wine, white wine, beer and gin flowed freely, whilst food wise, fish and sausage provided the hot side, whilst cheeses, crisps, and tomatoes/basil dishes provided the cold. We will be partaking in this facility again !
Night markets
Once our heads cleared a bit, we headed out again to the nearby night market which takes place daily from sunset to midnight. This happens all along the Main Street round the corner from our hotel, but also in various covered areas off to the side of the Main Street. You could spend hours browsing the various stalls selling just about anything you could think of....but for now we headed back to our hotel clutching a midnight snack purchased from the local 7-11 !
Tomorrow we intend to explore the city more including an excursion through the city walls.
Diary Photos
| | | |
| --- | --- | --- |
| Ping River, Chiang Mai, Thailand | View from our hotel window, Chiang Mai, Thailand | Chiang Mai, Thailand |
| Along the banks of the River Ping, Chiang Mai, Thailand | River Ping, Chiang Mai, Thailand | Along the banks of the River Ping, Chiang Mai, Thailand |
| Chiang Mai, Thailand | Tracey, Chiang Mai, Thailand | Paul, Chiang Mai, Thailand |
| City Wall moat, Thapae Gate, Chiang Mai, Thailand | | |
---