Paul & Tracey's Travels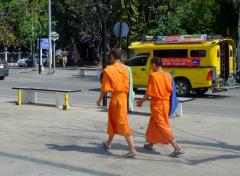 23rd Jan 2017 - Thailand
Exploring Chiang Mai
Exploring Chiang Mai
Today we took it easy and got up late before eventually going off by foot to explore the city centre in the walled square mile. There is not much of the wall left but remnants remain by each of the "gates" where there is vehicular access. The original moat is now broken up into lots of rectangular sections, a lot of which have fountains in the centre.
Temples and shakes with ex cons
The roads are teeming with cyclists, mopeds, taxis (which are red pick up trucks with covers and seats fixed on the back), and Tuk Tuks. Pedestrians also stray onto the roads as the pavements are either in poor repair or have stalls and seats on them. It feels like there are Buddhist temples or Wats every few yards, and we wandered around a couple which looked amazing as the sun glinted off the red, white and gold surfaces. There were also quite a few monks wandering the streets. We then found a "Women's Correctional Centre" where we had a couple of ice cold shakes. It sounds strange but as they sold prison gifts, we guessed that the centre was run perhaps by ex prisoners who sold products made by current inmates.
Gone to lunch, be back in 3 months
We then walked across the centre to the northern wall and on to the local bus station to find out about the bus that we will need to take in a few days time to get to the northern border of Thailand. Once we had all the information we needed, we hailed a Tuk Tuk and went back across the city to an address where we expected to find a record shop, however on arrival, there was a sign stating it was closed between November 2016 and February 2017!
Next we walked a few minutes back into the square mile and found a cafe to sit and have a cool drink.then it was back to the hotel to spend some time by the outdoor pool. In the evening we took advantage of the happy two hours again, then went for another stroll round the night markets.
Tomorrow, we may go to a nearby National Park.....
Diary Photos
| | | |
| --- | --- | --- |
| Chiang Mai, Thailand | Chiang Mai, Thailand | Chiang Mai, Thailand |
| Chiang Mai, Thailand | Chiang Mai, Thailand | Chiang Mai, Thailand |
| Chiang Mai, Thailand | Chiang Mai, Thailand | Tracey in Chiang Mai, Thailand |
| Chiang Mai, Thailand | Three Kings Monument, Chiang Mai, Thailand | Chiang Mai, Thailand |
| Chiang Mai, Thailand | Chiang Mai, Thailand | Tracey in Chiang Mai, Thailand |
---