Paul & Tracey's Travels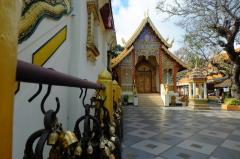 24th Jan 2017 - Thailand
Mountain temple
A trip into the mountains
Today we decided to take a trip up into the nearby mountain (Doi Thutep) to visit a hill top temple Wat Phra That and a view point. After breakfast we walked out to the nearest street and hailed a Tuk Tuk to take us to the north gate of the city to pick up a Songthaew - these are red pick up trucks converted to taxis with bench seats in the back. The 15km trip to the temple cost us about a £1 each - the hotel had quoted us £30!
Multi nationality pick-up truck ride
The Songthaew drivers will not go without a full vehicle (how they keep their prices down), so we had to wait until another 8 people arrived. We ended up with a group of English, French, Chinese, Czech and Korean! The area we were going to was to the NW of the town - 2km flat and 13km up hill. The temple is at a height of 5,500 feet (1,000 feet higher than BenNevis!) and the road is continual hairpins which the driver took at about double the 30 speed limit, overtaking everything in sight.
Temple in the clouds
At the far point of the road is the inevitable market, and 236 steps up to the temple. The views are great over the town and airport, although it was a bit hazy. The heat was not quite as intense as the town below, but it was still very hot. The temple complex however provided plenty of shade. It was built in 1336 however the road to it is only very recent. We wandered around for a bit marvelling at the huge bells and gongs, the gold stupa, and the amount of people that had made their way up there. Stopping for a loo break, we were presented with a third choice of loo over and above the normal Men and Women - monks! After a quick cool drink and cursory glance in the market, we negotiated a return trip back down into town in another Songthaew. This was slightly more expensive, but we had asked to be dropped near our hotel rather than the North Gate to avoid changing to a Tuk Tuk.
Happy hour is here again....
Walking back to the hotel, we stopped at a supermarket for some snacks and a beer, timing it just right being in the lunch time window of 12 noon to 2pm when you are allowed by law to purchase alcohol from a shop. There is also a period in the evening after 7pm when you can do the same. Back at the hotel, it was time to chill by the pool (Paul), and lounge in the air conditioned room (Tracey), then we walked round to a local tourist office to ensure our pre arranged pick up for tomorrow's activity was confirmed. Then it was time for happy hour and free food and booze.
Tomorrow we hope to go to an elephant rescue sanctuary......
Diary Photos
| | | |
| --- | --- | --- |
| Wat Phra That, Doi Thutep, Chiang Mai, Thailand | Our transport to Wat Phra That, Chiang Mai, Thailand | Arrival at Wat Phra That, Chiang Mai, Thailand |
| Steps up to Wat Phra That, Chiang Mai, Thailand | Paul at steps up to Wat Phra That, Chiang Mai, Thailand | Tracey at Wat Phra That, Chiang Mai, Thaialnd |
| View over Chaing Mai from Wat Phra That, Thailand | Tracey at Wat Phra That, Chiang Mai, Thailand | Wat Phra That, Chiang Mai, Thailand |
| Wat Phra That, Chiang Mai, Thailand | Wat Phra That, Chiang Mai, Thailand | Wat Phra That, Chiang Mai, Thailand |
| Wat Phra That, Chiang Mai, Thailand | Wat Phra That, Chiang Mai, Thailand | Wat Phra That, Chiang Mai, Thailand |
---