Paul & Tracey's Travels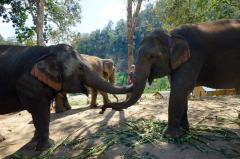 25th Jan 2017 - Thailand
Day at an elephant sanctuary
A day spent with elephants
Wow.....what a day......definitely a day to remember for the rest of our lives.
Today we spent the day at an Elephant Sanctuary about an hour and a half from Chiang Mai.
The Elephant Jungle Sanctuary is an ethical and sustainable eco-tourism project located approximately 60km from the city. It was Founded in July 2014 and is a joint initiative between members of the Karen hill-tribes of Northern Thailand and Chiang Mai locals who were concerned about the welfare of elephants in Thailand.

The Elephant Jungle Sanctuary is home to over forty formerly mistreated elephants, who are now free to enjoy their lives. The area we are visiting has seven of these, ranging in ages from 4 to 55. One of the eldest is a female who is pregnant, and one of the youngest is a young male called Naughty Peter, not I suspect the name on his birth certificate!

The project aims to raise awareness and educate people from Thailand and around the world about elephant care and the plight of the Asian elephant, and to create a future where elephants are not ridden, poached, overworked, or abused, and are instead treated with care, love, and respect.The Elephant Jungle Sanctuary project also provides many Karen people with employment, education, and financial support.
Into the jungle
At 8am we were picked up in the now familiar converted pick up truck. By the time we left the city we had been joined by some Americans, Canadians and Germans. We headed south on the highway, then after about 40 minutes turned on to a minor road to start heading up hill into the mountains and jungle which surround Thailand's highest peak Doi Inathon. After 1.5 hours we came to a halt on a dirt truck. It then got exciting...... We had to change vehicles and climb into the back of another pick up, this time open topped and standing. We. Then proceeded to head down the dirt track which went down at angles approaching 45 degrees, and let's not forget the hairpins.....
Eventually we got as far as vehicles go, and continued on foot downhill. At one point the guide pointed out a snake on the path, he warned us to step around it and move quickly but we were unable to clarify if it was poisonous! Then it was across a couple of wooden bridges and we reached our destination - a small clearing by a river, with a covered area containing a low table/seating.
Feeding elephants
Here we were given a top to wear in the traditional style of the Karen Hill tribe from whom our guide was from, and then told the etiquette of feeding elephants. Essentially, they are happy to take food via their trunk or straight into their mouth. What we were not prepared for is when we were let loose ,with the food they all come charging over pushing and shoving. There is a distinct skill in avoiding getting trampled.....one key element is to give the one banana at a time, and keep the rest of the bunch behind your back, unless of course there is also an elephant behind you.
Medicine balls
Once the bananas had run out, some of the men, me included, were sent up to a hut on the hillside to bring down some sugar cane for the next course. As we wandered around, you had to keep your wits about you to ensure you were not to about to be barged aside by a large male elephant weighing several tons.
After feeding, we retired to the covered area to have some pre-prepared Thai food, and lazing time in the sun or shade according to preference. Then we had some work to do... The elephants need a balanced diet, and to this end, every day they are given so called medicine balls, helpfully made by visitors just like us....
Females in the party were given the task of mixing rice and banana into a paste, the males were sent over to a separate area to chop bark and then crush it into a powder with brown rice using a medieval wooden instrument. These two constituents were then mixed together and made into balls for us to feed the elephants.
Mud bath
Then it was time for the mud bath !! Basically, this involved humans stripping down to bathing costumes, and elephants wallowing. The idea was to smother the elephants in mud, but a lot of fellow tourists got the same treatment. Then it was down to the river to wash all that mud off....needless to say a human/elephant water fight ensued.
Back in the covered area we had tea and coffee. and attempted to dry out before the trip back to the city. Back at the hotel just in time for happy hour......end to a great day.
Tomorrow.....who knows, but it won't be as good as today!
Diary Photos
| | | |
| --- | --- | --- |
| Elephant Jungle Sanctuary, Chiang Mai, Thailand | Transport to Elephant Jungle Sanctuary, Nr Chiang Mai, Thailand | Scary truck ride down to Elephant Jungle Sanctuary, Chiang Mai, Thailand |
| Scary truck ride down to Elephant Jungle Sanctuary, Chiang Mai, Thailand | Wooden bridge, Elephant Jungle Sanctuary, Chiang Mai, Thailand | Paul at Elephant Jungle Sanctuary, Chiang Mai, Thailand |
| Tracey at Elephant Jungle Sanctuary, Chiang Mai, Thailand | Tracey at Elephant Jungle Sanctuary, Chiang Mai, Thailand | Tracey at Elephant Jungle Sanctuary, Chiang Mai, Thailand |
| Elephant Jungle Sanctuary, Chiang Mai, Thailand | Paul at Elephant Jungle Sanctuary, Chiang Mai, Thailand | Paul at Elephant Jungle Sanctuary, Chiang Mai, Thailand |
| Paul at Elephant Jungle Sanctuary, Chiang Mai, Thailand | Paul at Elephant Jungle Sanctuary, Chiang Mai, Thailand | Paul at Elephant Jungle Sanctuary, Chiang Mai, Thailand |
| Elephant Jungle Sanctuary, Chiang Mai, Thailand | Tracey at Elephant Jungle Sanctuary, Chiang Mai, Thailand | Tracey at Elephant Jungle Sanctuary, Chiang Mai, Thailand |
| Tracey at Elephant Jungle Sanctuary, Chiang Mai, Thailand | Paul at Elephant Jungle Sanctuary, Chiang Mai, Thailand | Tracey at Elephant Jungle Sanctuary, Chiang Mai, Thailand |
| Elephant Jungle Sanctuary, Chiang Mai, Thailand | Tracey at Elephant Jungle Sanctuary, Chiang Mai, Thailand | Paul at Elephant Jungle Sanctuary, Chiang Mai, Thailand |
| Paul at Elephant Jungle Sanctuary, Chiang Mai, Thailand | Tracey at Elephant Jungle Sanctuary, Chiang Mai, Thailand | |
---