Paul & Tracey's Travels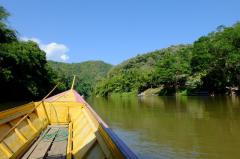 29th Jan 2017 - Thailand
To Burma (twice!), and a wander round Thaton
Boat to the Burmese border
The place we are staying here in Thaton is right on the Mae Kok river, so after breakfast we decided to take a long tail boat up river to where it crosses into Thailand from Burma/Myanamar. The teacher from the school (Nooyu) drove over to meet us with Ali's fellow volunteers Rachel and Alice, then we walked down to the rickety bamboo pier to get on the boat.
Long tail boats are used like taxis around here, and you can take a trip to the nearest city Chiang Rai which takes a couple of hours. The boat itself is very low in the water and long and thin, so it is quite hard to get in and out. We set off at quite a pace up stream passing under the road bridge in Thaton and then on towards the border.
Crossing into Burma....wot no passport
The boats tend to weave back and forth across the river following the deep channels as at this time of year river levels are lower so sand banks and large trees start to appear at the surface. The Thai/Burma border is marked with a string tied above the river from bank to bank, with the country's flags attached. This is not a formal border crossing so there were no border police visible and only a small shack which may or may not have had anything to do with the border.
At this point we turned just edging cheekily into Burmese waters, then headed back downstream, passed our room, and on a bit further south, at one point passing some kind of small scale mining. Then it was a turn again, and back home. The teacher Nooyu had said she was not sure she wanted to come as she could not swim, but she seemed to enjoy it.
A walk into Thaton
We then chilled in our room for a bit, and Nooyu took Rachel and Alice back to the school. Later we decided to walk into Thaton in the 34C heat! We had a quick look at the shops but there is very little here. We decided to walk up to the big white Buddha statue to admire the view and stopped in a small cafe on the way up for a cold drink. There were a lot of young monks wandering around, clearly some live in the small huts that are dotted around on the hillside.
Back to Burma !?
We could not face the 20 minute walk along the exposed road back to where we are staying, so tried to get another long tail boat back instead. We ended up with a compromise, they would take us back but would take us up to the Burmese border first ..... For £6 for the 3 of us. So, back to Burma (!), and then home.....
Tomorrow Ali will go back to work at the school as it is Monday, and we will chill by the river.
Diary Photos
| | | |
| --- | --- | --- |
| Long tail boat trip, Mae Kok River, Thaton, Northern Thailand | Our local pier, Mae Kok River, Thaton, Northern Thailand | Long tail boat trip, Mae Kok River, Thaton, Northern Thailand |
| Long tail boat trip, Mae Kok River, Thaton, Northern Thailand | Long tail boat trip, Mae Kok River, Thaton, Northern Thailand | Long tail boat trip, Mae Kok River, Thaton, Northern Thailand |
| Long tail boat trip, Mae Kok River, Thaton, Northern Thailand | Long tail boat trip, Mae Kok River, Thaton, Northern Thailand | Paul on Long tail boat trip, Mae Kok River, Thaton, Northern Thailand |
| Burmese border, Long tail boat trip, Mae Kok River, Thaton, Northern Thailand | Tracey, Ali, Rachel, Alice, Nooyu, Long tail boat trip, Mae Kok River, Thaton, Northern Thailand | Long tail boat trip, Mae Kok River, Thaton, Northern Thailand |
| Ali, Rachel, Alice, Mae Kok River, Thaton, Northern Thailand | Paul, Tracey, Ali, Mae Kok River, Thaton, Northern Thailand | Paul, Ali, Rachel, Alice, Nooyu, Mae Kok River, Thaton, Northern Thailand |
| Paul in Thaton, Northern Thailand | Paul and Tracey, Thaton, Northern Thailand | |
---