Debbie does...round the world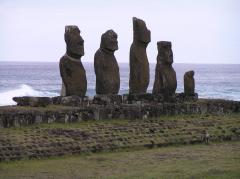 29th Sep 2008 - 4th Oct 2008 - South America - bits of...
Easter Island
Well its 2249 andI'll tell it like it is. Papeete airport is a hole - its 26 degrees and there is no airconditioning. They took our water off us at the security gate after waiting for 2 hrs to clear customs and then re check in. There is no shopping apart from one duty free store - its stinking hot did I say that. Zthe bar is open but they have run out of just about everything and there is no food and no vending machine. A small bottle of diet coke at the bar - they had no water - cost $5US - its all bollocks. My fantasy of 4 hrs in Papeete resting, enjoying the ambiance was shattered with having to go thru customs, wait in an hour long queue to recheckin and no airconditioning. I fear I am repeating myself. I flew on Air Tahiti Nui and everything was in French - when it was repeated in English you couldn't understand her accent. Lunch was a bit blah - no great choices for me. Lamb ruined by parsnips or fish which I chose which was bland. Anyhow the one great thing is that the laptop is fantastic.
Younger American guy next to me - he slept the entire way - I think because he was so tall it was nightmarish for him - anyway he wasn't much of a coversationalist.
Fortunately September 29th repeated itself because of the international dateline.
The flight from Tahiti to Easter Island was fantastic. I would recommend Lan Chile to anyone. Boarding was straight forward. The aircraft was big and clean and helped that my flight wasn't full. My seat in the second to back row was full of newspapers. I waited until the air hostess came and said I would wait until everyone had boarded and then sit in an empty seat half hoping this would work in my advantage. She seemed surprised that I was so easy going about it and immediately showed me to the last middle back row and said it was empty and I could have all 3 seats to myself. Later could see that my original seat plus the 2 behind are curtained off and the crew use them for 'resting'. The seats were roomy and they had a fantastic touch screen and you could start stop and pause movies as well as play games - I played Who wants to be a Millionaire and won $350000.00 - not quite the million but I was happy. Watched the lastest Indiana Jones movie which I enjoyed - pausing it after an hour for a bit of a sleep - 3 hours later watching the rest while eating breakfast.
Landed in Easter Island about 0930 - initial impression was favourable and felt and looked like what Rarotonga could have been 20 yra ago. Current population of Easter Island is just over 4000. The airport was tiny - avery informal customs area with 2 people working from laptops. Then picked up baggage in main airport room and put it through baggage security with no one looking at the screens. However a dog had sniffed over all out bags. A board was held up with my name and that of another nice couple at my hotel - got to know them better and they are lovely because they are NZers living in Australia - they apologised for that and said not to judge them.
Hotel Otai is middling - expected slightly more for the price of $90US per night as this was my treat for the first 3 mths. The funniest thing was the real reason I chose it was because it had a swimming pool and I dreamed of lying beside the pool reading and swimming with my few extra days here. Well like the website said they do have a pool and I asked in my email as well but they didn't tell me that it had no water in. Bit of a problem really but today they have started filling it with one garden hose and it will take several days if not longer to get to the top. The gardens are beautiful and well tended. My room is adequate 2-3star level. Bathroom is old style and whilst not grotty isn't 3 star either.
I decided to try and keep awake all day even though I had had only 3 hrs sleep in the previous 24 hours. Had a hot shower and then booked my day tours and went in search of the bank to change my US$ into Chilean pesoes. I had already realised by now that my lack of Spanish could cause a problem as English is not widely spoken at all. The bank closes at 1300 and I got there in time. Everything was in Spanish so I waited in line hoping it was the right one. The other sign said 'commerciales solo' - I presumed this was for business customers and I was right. $100US got me 5300000 pesoes. My next job was to find water - actually harder than you think. The super Mercado was like nothing I had ever seen before - dark and dingy with a lot of empty shelves and not a lot to actually eat and certainly no water. The meat department consisted of a person dressed in white with a knife who hacked off the pieces you wanted off the carcass in a frigde. There was a baker man with no bread in his shelves and nothing else except for a lot of rice, pasta and tins. I brought diet coke and left a bit despondent about my chances of doing some cheap make my own meals here. I then found an internet café and did a quick update although will replace it with this and then brought a late lunch next door at asmall restaurant as was feeling abit dizzy - more from lack of sleep and water than food although was seven hrs since breakfast. The menu was in Spanish and the woman's English was such that I couldn't understand it. In the end I got ensalata con queso which translated is salad with cheese and a kafe (coffee). The slad was nice and predictable - lettuce, avocado, tomato, the dreaded cucumber, limited carrot and 3 different types of cheese - felt quite healthy and virtuous afterwards. After asking the woman 'donde esta panateria' - where is the bread shop? I got pointed in the direction where I had previously been to a little shop next door to the supermarket. This taught me not to judge a shop by its frontage and it had a few delights that I wanted including water. I have now learnt that there are two different types of water - fizzy mineral and regular - I picked the wrong one and it is disgusting but as it is a 2 litre bottle I will keep drinking it until it is gone. Also brought 2 meat empanadas - beef, egg, onions etc wrapped in a pastry type thing - a large funny version of a pie with the pastry being quite different, 2 small breadsticks, cheese, muesli bar and 2 pottles of fruit in juice. Feeling pleased with myself walked the long way back to the hotel. Feeling very tired by this time and it was only 1500 so decided on a nana nap which lasted for 40mins but knew if I didn't get up I wouldn't for number of hours and I wanted to sleep through the night. I took myself off for a walk along the the coastline - waterfront would imply something that it is not. By doing this I stumbled across the beginnings of the National Park. I had a lovely meander along coming across the first moai (statue) of many in the days to come. I kept on walking and eventually returned to my room 2 hrs after I started. I had an empanada for dinner and after struggling to stay awake until 1900 I gave up and went to sleep waking to the alarm 12 hrs later.
Tuesday 30 September
Up at 0730 to have a cold shower - the hot one yesterday designed to trick me. Went for breakfast which was free - cheese, cold meat, bread rolls and papaya and juices. Coffee was instant. - yippee. Started my day tour with Rapa Nui Tours at 0915 - mixture of Spanish and English speaking but a guide for each group - about 15 of us all together. The couple I met the day before was on this tour as well as some others that I got to know over the day.
Don´t kinow where the rest went but will try again later
Diary Photos
---