Debbie does...round the world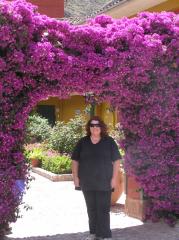 18th Nov 2008 - South America - bits of...
Sacred Valley Day Two
Up at 0700 today as not feeling very well. Today was going to be a huge walk across the top of a mountain and then downhill for 4 kms but rough paqths and very steep stone steps originally made by the Incas. The bus took us three quarters of the way and then walked uphill for about 30 mins. it was a wonderful place with the most perfect steep terraces. The Inca citadel lies high above the village of Pisac on a plateau with a plunging gorge on either side. Above the terraces is the ceremonial centre with an Intihuatana, several working water channels and temples. Also some ancient tombs that were plundered by grave robbers and the Spanish. The walking was tough at times especially the downhill bits. There was one specific section where i was quite scared with about 100 very steep steps straight down with no sides and very narrow but got there eventually by not looking down. About 30 mins from the bottom it started to rain heavily and we got drenched even with raincoats and it made the walking harder because everything was wetter and slipperier. Anyway we finally got back to the village and had lunch about 1400. Much nicer today as we had pizza. The walk had distracted me from feeling unwell but now I felt dreadful. Went to the famous Pisac market and brought a leather and suede handbag for going out with and then decided to go back to the restaurant where we were meeting and waited for the others. Back in Cusco by 1900 and had bread and cheese for dinner and I was in bed by 2000 after finishing preparing for our art class tommorrow. A fantastic two days and even though there was two big walks and I felt worn out it was so worth it. Also some of the most spectacular scenery I have seen so far.
Diary Photos
---