Debbie does...round the world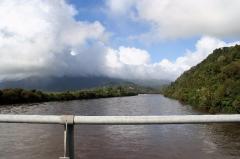 15th Apr 2017 - Adventures in New Zealand
Karamea
Yesterdayleft Nelson at 1400 for varying reasonsand travelled in the rain- at times thunderous to Karamea - twas the 4.5 hour trip we thought but easy driving and hardly any traffic.A quick stop at Lyell River for a cuppa and then continued arriving just on dark. Staying at the Karamea River Motels for the next 3 nights. $150 per night but a lovely one bedroom motel room - clean, spacious and warm despite the rain with wonderful views. Two burner stove top and microwave. No oven but otherwise everything else you could want including a cheese grater.
Today was going to be raining on and off - tis the West Coast after all and doubt it had anything to do with the remnants of Cyclone Cook that has ravaged northern New Zealand in the last day or two.Went to the Info Centre to book our Cave tour - Honeycombe Hill Caves - fully booked for Sunday so going Monday instead. Helpful woman at the counter -asked our plans and gave great tips to help us along.A quick shop at the local 4 Square - prices werent horrific and back to make a packed lunch.
Then on up to Kohaihai - the start of the Heaphy track. 15kms away from Karamea with the last 5-6 kms on a gravel road in great condition. Stopped along the way for some lovely beach shots - just cant get enough of the gorgeous green that the grass is up here. Then luch at Kohaihai with fab views over the river mouth. Walked along beach and then up the ZigZag track to the first lookout - only 2 minutes off the main track - great views over the Tasman Sea. Then continued on the Heaphy track over theswing bridge and up to Scotts beach lookout. Despite the rain over the past few days the track was in good condition albeit wet. gradual ascent to the Scotts Beach lookout that left me huffing and puffing but for the averagely fit would be an easy walk. Picnic table at the top and great views over Scotts Beach. probably about an hour return if you dont side track which we did. Then onto the Nikau Palm Walk which is a loop track - approx 40 mins and beautiful - serene and relaxing and quiet and everything you could want in a bush walk. A bit of drixzzle for the first time since being out and about but nothing to get excited about.A few muddy places to negotiate.
Another cuppa at the picnic table and then drove back to Karamea and diverted for a drive up Umere Road to look at the Big Rimu Tree track. Started raining so continued to the end of the road at Virgin Creek and being in the Subaru instead of the Pajero decided not to negotiate the creek and instead turned back.
Wonderful day overall finished off with Karamea sausages and eggs.
Diary Photos
---