Cookies Great Escape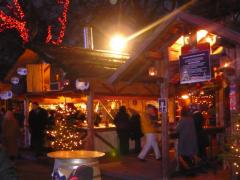 6th Jan 2009
Winter Wonderland - Hyde Park
Well I thought I should post pics from my trip on Friday to Winter Wonderland. This is basically a fair with christmas markets set up from early December to early January with an iceskating rink as well and little christmas stalls and fun rides... I havent really had a chance to go since getting back from NZ, so on Friday last week (Dec 2) a friend from work and I decided to check it out!
Lots of fun and we had a few things to eat as we went... chocolate covered strawberrys as well as some little waffles with nutella... brilliant!
Hope you like the pics!
Also you will see pics from the ice rink at the Natural History Museum! Very packed but such an amazing setting!
Other pics are from the snow which I woke up to on Monday morning... brrrr.....!!!
Diary Photos
---