Harry and Judy's RV Trip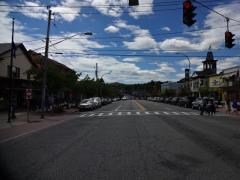 3rd Jun 2017 - Summer 2017
Day 15-June 3, 2017-Lake George, Glens Falls and wine
Day 15-June 3, 2017-Lake George, Glens Falls & Wine
Mostly cloudy again, although the sun teased us a few times. Temp got up to 72 for about 10 minutes.
We checked out the campground in the morning. They have a regular pool, kiddie pool, nice mini-golf, 2 playgrounds and a pretty lake where you can rent canoes or kayaks. It's a member campground, I guess people stay here all summer.
We took a ride up scenic route 9N through Corinth, Hadley and Lake Luzerne in the Adirondack mountains, over the Hudson River where it almost looked clean. Then through Lake Vanare, all the way seeing rental cottages, cabins and motels, rafting and tubing shops, snowmobile trails, dude ranches and all sorts of tourist activities and accommodations. Got up to Lake George, crowded with people, it's Saturday and there's an Elvis festival going on and a parade later. The main street is filled with the sound of quite a few Elvis wannabes singing at the restaurants. For the past two weeks I have been really cold because I left my fleece jacket at home so I only had a sweatshirt. So I bought a jacket which kind of insures that the sun will come out and the temp will get in the 80s.
Glens Falls is only about 15 miles south of Lake George and on our way home so we took a ride through town. For about 4 miles every home on the street was having a garage sale. Big Outlet Centers, just about every store you can think of has an outlet on this road. Took route 4, also called "Lakes to Locks" passage where we drove alongside the Champlain canal system for a while and saw a few locks. Heading home we searched for and found a winery, Saratoga Winery, and stopped for a tasting. They had live entertainment, a four piece band, and lots of people. Big porch, and a back yard with games for kids and adults. Very busy place, 3 limos full of what looked like bachelorette parties. Back to the RV to pack up, leaving tomorrow.
Diary Photos
Diary Movies
---