Harry and Judy's RV Trip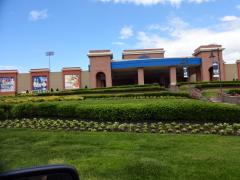 8th Jun 2017 - Summer 2017
Day 20-June 8, 2017-Harry's Birthday, casino, horses and dinner
Day 20-June 8, 2017-Harry's birthday, casino, horses and dinner
Started sunny, then clouds, then sun again, got to 70-WOOHOO!
HAPPY BIRTHDAY, HARRY!
Busy day, started with catching up on phone calls, e-mails and the blog seeing that we have decent wifi. Not good wifi, just decent. Didn't get out 'til almost noon. Went to Wegman's to get some groceries. If you know Wegman's you know you don't just go in and get what you need, it's a shopping experience, sort of like Stew Leonard's minus the hokey singing and dancing animals. Back to the RV to put everything away, then off to the casino. Harry got $5 free play for his birthday but it sure didn't help. Neither one of us had any luck. I started winning at one machine and a man with the worst smelling cigar on the planet sat down next to me. I probably could have won $$$$ but I couldn't hold my breath long enough to stay there. It's all his fault. Went out back to watch the thoroughbred racing but we didn't bet on any horses, we were still licking our wounds from the slot machines. Ended the day with a nice steak dinner to celebrate Harry's birthday. Off again tomorrow.
Diary Photos
8th Jun 2017 Presque Isle Downs and casino
No Description
---
8th Jun 2017 Starting gate
No Description
---