Harry and Judy's RV Trip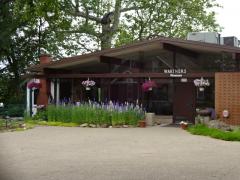 9th Jun 2017 - Summer 2017
Day 21-June 9, 2017-To Ohio
Day 21-June 9, 2017-To Ohio
Drove 152 miles in 2-1/4 hours.
Started sunny, then the clouds and sprinkles rolled in. Got up to 79 at one point.
We made good time because all our travel today was on interstates, I-90 to I-271 to I-77. We were in Ohio within 15 minutes of leaving and went from fields of pretty little yellow flowers that looked like ground cover to the cities of Akron and Canton, then back to farmland. Realized when we got to the campground that we are directly north of our home in Florida. We traveled over 3000 miles, 17 states in three weeks to get 950 miles north of where we live. Guess we're taking the long way.
Continued with the book on tape for a while, it's getting better but we still don't know who did it.
I was having trouble finding a campground near a knife museum we want to go to in Dover, OH. I called the museum to find out the hours and asked if they knew of any nearby campgrounds. They told me about Tuscarawas County Fairgrounds and gave me the number of the caretaker. Sure enough, there were sites available and it's right out of town about a mile from where we want to go. Not many sites but all we need is one. It pays to ask the locals. When we pulled in we were surprised to see the camping area is right across from the race track and the trotters were being put through their paces. We can watch them right from our RV. After lunch and settling in we drove to Warther's Museum, a collection of 64 ebony, ivory and walnut carvings by Ernest "Moody" Warther, who started this as a hobby in 1902, never sold a piece and died a pauper. It's a wonderful collection of trains, tools, and other carvings. His wife collected buttons and the collection numbers upwards of 73,000. We got there late so we got the quick tour and didn't go in the house or stroll the gardens. We may go back tomorrow, although we did get a very good overview from the great ladies who worked there. The knife factory now employs third and fourth generation Warthers who make kitchen knives. Quite a unique gift shop too. Jeanne, the guide, also told us other places of interest to see while we're here. And we met the lady who gave me the info on the campground. Very nice people. On the way back we spotted a sign "Winery-1 Block" so, of course, we had to go. Nice dry red wines. Back to the RV for dinner and to relax. There's a loud graduation party in the building behind the campground (probably an arts and crafts building during the fair). Hopefully they'll either quiet down or invite us over.
Diary Photos
9th Jun 2017 Warther's museum
No Description
---
9th Jun 2017 Yolo Winery
No Description
---