On On Home around Australia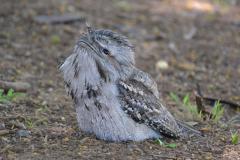 20th May 2017 - 26th May 2017
Week 410 - Monto
Our departure from Bundaberg was once again clinical. Mum and Alan were in good spirits and I had done a few jobs for them around the house. They had a leaking storm water pipe for 17 years and the damage from the pipe undermined the concrete porch at the front of the house and the slab had dropped. The repair was simple and cheap and it is a shame that it wasn't done years ago. A final test with the help of a hose confirmed that the storm water is now redirected to the gutter at the street.

Our next stop Childers, a replica of our previous trips, dump point and a fresh water fill up. A quick stop and go, then via Ban Ban Springs to an overnight at Gayndah. Thursday morning we had an appointment with the mechanic at Gayndah. He did a full comprehensive service to the engine. All was well. Also a Queensland Road Worthy Certificate was gained. Initially we failed on the windscreen and the two front tyres, but that was soon remedied and we were on our way to Monto.

Jo has been the principal organiser of the Highway Wanderers 23rd birthday celebrations. The keyboard on her computer has been running red hot and the phone lines have been fully engaged. To date we have 87 Highway Wanderers attending which will probably equate to 50 plus vehicles. The Monto Polocrosse grounds are a great venue for a low key get together and reunion of many friends. It will be simple, pleasant and rewarding and the weather forecast is magnificent.
My mum's radium treatment is going very well. The tumours have shrunk in both areas – one behind the nose and one behind the eye. Let's hope the treatment is successful.

And finally, Rusti the dog has been in training. She can now deliver two cans of beer on demand for a small reward of a schmako.
Comments
Go on strike Rusti, a schmako is not enough for that type of work. :) xx From dot, on May 28, 2017 at 05:12AM
Lovely to see your blog again, it's been a while. Rusti looks so much like Midge when she was small, gorgeous. Our Midge is turning 10 double figures this year and is starting to slow down (like us). Cheers and hope to see you both again soon. Bev and Noel amend Midge xxx From Bev and Noel Hoole, on May 28, 2017 at 04:33PM
Lovely to see your blog again, it's been a while. Rusti looks so much like Midge when she was small, gorgeous. Our Midge is turning 10 double figures this year and is starting to slow down (like us). Cheers and hope to see you both again soon. Bev and Noel amend Midge xxx From Bev and Noel Hoole, on May 28, 2017 at 04:33PM
Sorry guys my comments have come up twice From Bev and Noel Hoole, on May 28, 2017 at 04:35PM
Sorry guys my comments have come up twice From Bev and Noel Hoole, on May 28, 2017 at 04:35PM
Sorry guys my comments have come up twice From Bev and Noel Hoole, on May 28, 2017 at 04:36PM
Looking forward to a catch up in Monton From vicki., on May 28, 2017 at 10:19PM
Diary Photos
---