Harry and Judy's RV Trip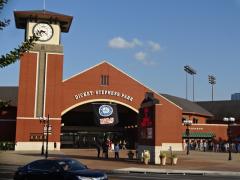 12th Jul 2017 - Summer 2017 Part II
Day 7-July 12, 2017-Little Rock, AR
Day 7-July 12, 2017-Little Rock, AR
Drove 80 miles in 3 hours. Stopped along the way.
Hot and HUMID again today, up to 98.
We're only going a short distance today because we want to see a baseball game tonight in Little Rock. Got to the campground early, set up, then drove around North Little Rock-quite a big city. We've stayed at this campground a few times before-it's right in the middle of town on the Arkansas River, right under the walk-on Presidential Bridge that leads to the Clinton Library. At night it lights up in different colors and shines on the river. Very pretty. Not much in the campground but it serves our purpose. It has good wifi and it's less than a mile from Dickey-Stephens Stadium where the game is tonight. The Arkansas Travelers, AA affiliate of the Seattle Mariners vs. the Springfield Cardinals. The Travs have 2 mascots, Ace, a horse and Otey, a swamp possum. Tonight is Dollar Dog night and Whiskey Wednesday, we passed on both but got to watch a hot dog eating contest. There is also a live organ played by Trey Trimble. Of the 160 minor league teams there are only a handful of stadiums that still have a live organ but supposedly they're coming back. We had great seats but every seat was good. Nice stadium. Good game and the Travs won 5-2. Very hot and humid all night, it was still 92 when we left the game.
Diary Photos
Diary Movies
---