Harry and Judy's RV Trip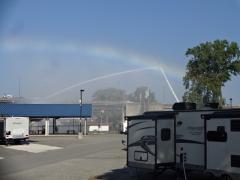 13th Jul 2017 - Summer 2017 Part II
Day 8-July 13, 2017-Branson, MO
Day 8-July 13, 2017-Branson, MO
Drove 179 miles in 4-1/2 hours.
We're melting….98 and H.U.M.I.D!!!!!!!!
Change in plans. We were going to go to Springfield, MO tonight to see the Cardinals play but we saw them play in Arkansas last night and they're still away. We've been to Springfield a few times before and have seen all we want to see there so we decided to go to Branson, MO instead. Up route 65, about the only way to get here, through the Ozark Mountains with great scenery and steep and windy mountains. Passed a lot of stone and rock yards along the way then over the Buffalo National River where there were a lot of kayakers getting ready to take off. There's always a new show in Branson and it's a fun place. Stopped for lunch at an abandoned gas station and a groundhog was munching on grass right on the side of the road. He looked at us like we had just interrupted his lunch before scampering down his hole. But he kept popping his head up and didn't look like he was at all afraid of us. He was gone when we left but I tossed some celery down his hole for his dessert. The campground is called Branson View and rightly so. It has a magnificent view of the Branson "strip" down below. It's built on the side of a mountain so the interior roads are steep and windy but they gave us a nice level site. Had an early dinner then went to Andy's for some frozen custard which did nothing to cool us down but it's like a requirement to go to Andy's when in town. Checked out the condo we're staying in later this year and it seems very nice. Saw a doe and a fawn on the road. This time we played "chicken" with the fawn, again we won. Went to Dick's 5 and 10 down in Branson Landing (another requirement in Branson). Everything is either up or down in Branson, hills, hills and more hills. One hill near our campground says it's a 19% grade. We didn't come here to see any shows, (actually we're coming here for a week in November and already have those shows booked), but we decided to go see the Haygoods, a family of six brothers and one sister who sing, dance and play numerous instruments. This was one of the first shows we saw here a few years ago and the show has changed quite a bit. More pyrotechnics, glitz and they have all matured quite a bit. They harmonize really well. We got a deal, buy one ticket,get one free. When I called for tickets I asked if the seats were good and was told we would get the "best available" but they weren't sold out so the seats should be good. They weren't. They were in the balcony looking down. The chairs were like kitchen chairs, the lights were in our eyes and we couldn't hear well. The best part was we sat right where they launched the brothers on the zip line right over the audience. The first one went down upside down playing a guitar. At the start of the second half another brother went down using a jetpack. They sure know how to make an entrance.But the show was good. Back at the campground the lights down below were beautiful. There's a ferris wheel that has a light show and we could see if from the strip and also from out campsite.
Diary Photos
Diary Movies
---