Harry and Judy's RV Trip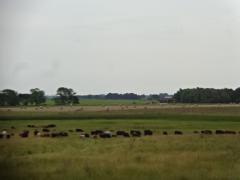 20th Jul 2017 - Summer 2017 Part II
Day 15-July 20, 2017-To Fargo, ND
Day 15-July 20, 2017-To Fargo, ND
Drove 234 miles in 5 hours.
One of those beautiful days, 85, sunny, low humidity
All of today's drive was on I-29 North where the speed limit is 80 MPH, not that we do that, especially towing. There's a lot of paving going on and I've seen more orange cones than I can count. Not much to see on the side of the road, corn, cows, soybeans, alfalfa, haybales and prairie. Drove over the Continental Divide. Somebody once described the Continental Divide to me as "if you peed on the top, half would go east and half would go west". I always think of that. Continued with the book on tape, we still don't know "who done it". Most of the trip we were pelted with pretty orange and brown butterflies slamming into the windshield. We think they're little Monarchs. Must be butterfly season here. Stopped for lunch right after we got to North Dakota, Fargo isn't too far away. When we got to the campground we found a big sign "Campground Full". So glad I made reservations. We set up, and took advantage of the great weather and shade trees to read and relax. Also made reservations for the next few days. After dinner we took a ride around the park. It's a city park and has the only campground around and is right on the Red River. Some campsites are right across from the river. Beautiful bike trails that we heard went all the way across the river to the sister city of Moorhead, MN. At least 6 ballfields, playgrounds, picnic shelters and bike rentals. Quite a few people are out taking advantage of the beautiful weather. The park is on Roger Maris Drive and there's a Roger Maris Park with a fountain and colorful flowers as you enter the park. We're here for a few nights so we'll check stuff out tomorrow.
Diary Photos
Diary Movies
---