Harry and Judy's RV Trip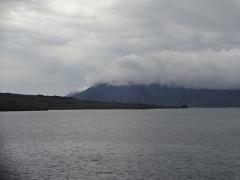 3rd Aug 2017 - Summer 2017 Part II
Day 29-August 3, 2017-Grand Junction, CO-Book Cliffs and Winery
Day 29-August 3, 2017-To Grand Junction, Book Cliffs and Wineries
Drove 120 miles in 2-3/4 hours.
Temp started at 42 and raining when we left, got up to 94 and sunny by 4PM
We had another one of those "feast for the senses" days. We're still driving on route 50 and I can't describe the scenery it's so beautiful. Even when it's raining the mist on the mountains is gorgeous. We're driving through the West Elk Wildlife National Forest and not long after we left the campground we started seeing the Blue Mesa Reservoir. At 20 miles long it's the biggest body of water in Colorado. Saw a few fishermen out, we heard the salmon and trout fishing here is great. There are a couple of marinas too. Went over a dam that created the reservoir and then a deep canyon. Lots of sagebrush, creeks, lakes and mountains. And some construction where we got stopped for a little while. We don't mind because the road ahead is usually better except for one stretch where the road was down to dirt and ruts. The truck and RV got filthy. Drove up and over Cerro Pass at 8000' and then the landscape changed completely and the weather got better. It's still extremely windy but the sun is starting to come out and it's getting warmer. We were no longer among pine trees and steep slopes on either side but more or less on a flat plateau with the mountains in the distance. The last 60 miles we drove through the towns of Montrose, Olathe and Delta, lots of farms and ranches and then started seeing the magnificent Book Cliffs that go on and on into Utah. Our campground is at the foot of Mr. Garfield which sits atop part of the Book Cliffs. We're still at about 5000' and it's harder to breathe but we'll get used to it. We got to the campground really early, before 1PM, set up, had lunch and planned the next day or two. It's a beautiful campground, big level sites, shade trees, close to wineries, peach orchards and lots to do. After lunch we took a ride to a couple of wineries in Palisade, about 10 minutes away. The view of the Book Cliffs on the highway is amazing, we were up close and personal. I hope we go that way again during our stay. First winery was not for us, ports only, but they sent us down the road to Grande River that had a few dry reds. They sent us to Talon and St. Kathryn Cellars, which are in the same building. We only went to Talon and their dry reds were not so dry. They sent us to Maison La Belle Vie. The GPS sent us to a cornfield instead of the vineyard but Google got us there. They had a wedding in the back that had just started so we watched the bride come down the "aisle" and then did a tasting. Their reds were better. Back to the RV still quite early to sit around for a while before dinner.
Diary Photos
Diary Movies
---