Harry and Judy's RV Trip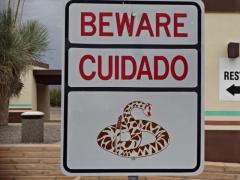 11th Aug 2017 - Summer 2017 Part II
Day 37-August 11, 2017-Deming, NM Wine & Adobe Deli
Day 37-August 11, 2017-Deming, NM Wine and Adobe Deli
Drove 181 miles in 3 hours.
Mostly cloudy which kept the temp down to about 88.
We heard coyotes this morning before we left the campground…..eerie sound. We're back to traveling on Interstates again, this time I-25 South through Socorro and Truth or Consequences following the Rio Grande to Hatch where we got on route 26 West to Deming. Hatch is the Chile capital of the world and it is a wonderful little town filled with the smell of chile peppers and the colorful yellow, red and green peppers on roadside stands . Lots of Mexican pottery stores that add to the color of the town. Very small, only a few blocks and then we're back to sagebrush again. A few chile fields and corn fields, some solar panels and wind generators but other than that nothing to note. The most interesting thing that happened on our trip is that we had a fly driving us nuts in the truck. At one point he landed on a map in my lap and I swatted him. I missed him but I broke the arm off my prescription sunglasses which were under the map. Harry sat on his glasses the night before we left so now we're both using spares and not happy about it. I went to Wal-Mart to see if they're fixable but they're not. I finally got the fly and I'm leaving his dead, limp body on the dashboard as an omen to any other flies who enter the sanctity of the truck. Got into the campground early, about 1PM, set up, had lunch and went to Luna Rossa Winery a couple of miles out of town. They have mostly Italian wines and we know we like them because we were here last year. Nice people especially Joe, one of the owners, who remembered that we were traveling from Florida from last year. On the way we passed another campground (there must be at least 6 on this road) that is for over 55 only. Drove through and it looks really nice, maybe if we ever come here again we'll stay there. From there we went to St. Clair Winery on the other side of town for a tasting. We had been here before and also to the winery they have in Albuquerque. This time they had a Chile Wine from Hatch that we tried. It was a bit sweet and spicy hot. Would be good with chili but we didn't buy any. We did notice that last year the tastings were free and this year they charged for anything over 4. We split tastings so we get to taste them at no charge. One of the reasons we like Deming is Adobe Deli. It's an elementary school that has been converted into a restaurant, but not just any restaurant. It has a deli up front, stuffed animals all over, a pool table in the middle of the restaurant on one side, a huge alligator in a glass cage on the other side, a huge video screen, nice bar and stuff, stuff, stuff. Some of the classrooms have been converted into a coffee grinding room, wine locker and storage for more stuff. There are a couple of rugs that Elvis walked on in some of the rooms. One room, the old library, still has school books from the 1970s. The owner, Joe, wasn't here tonight but the server, Jill, remembered us from last year when she was the bar-tender. She gave us a huge cup of their freshly ground coffee when we left. Last year Joe had us sign our name on the inside of the wine locker door. It was locked tonight but we signed again on the outside of the door. The owners are from Long Island and visited here in the 70s. When the building went up for auction they put a bid in for a joke and won. They didn't know what to do with it but having owned delis in NY they decided to try it here. The place was packed, it seems to be a place to celebrate special events. It's hard to find, covered with growth, no sign, just an old windmill outside as a landmark. We got their ribs, served on a skewer stuck into a board and they give you a warm towel for cleaning up. We split the entree and have enough left over for another meal. A really enjoyable experience. Back to the campsite to enjoy a wonderful breeze that almost made it chilly and a pretty cloud-filled sunset. Went outside about 11PM to see the beautiful stars.
Diary Photos
---