Harry and Judy's RV Trip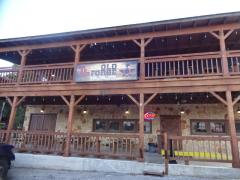 15th Aug 2017 - Summer 2017 Part II
Day 41-August 15, 2017-To Bandera, TX
Day 41-August 15, 2017-To Bandera, TX
Drove 134 miles in 3 hours.
Hot and humid, 93, but a nice breeze.
Still driving on I-10 to Kerrville, TX where we went south for 30 miles on route 173 to Bandera, TX, the "Cowboy Capital of The World". We listened to the book on tape which is getting a bit drawn out. Next time we're going to make sure whatever we listen to is an abridged version. Uneventful trip, but we passed many huge sprawling ranches with big elaborate gates. Quite a few of the smaller no so well kept ranches had "For Sale" signs on them. Guess ranching isn't what it used to be. Got to the campground about 1PM. I had called the owner yesterday and he said to call him when we got here and he'd give us a site number but the call went to voice mail so we drove around the campground looking for a nice site. A man and woman were sitting under a big pecan tree and she came over and said the owner wasn't here but we could take any site we wanted. We wanted the one they were sitting at….the only one with shade. No problem with them, they moved their chairs back to their site and we set up. Nice campground on the Medina River with a little waterfall and a beautiful breeze. We sat under the trees for a while and read and watched the resident squirrel up in a branch. Went into town for dinner at TJs at the Forge. Town consists of a main street a few blocks long, a big general store, some cowboy gear stores, restaurants, bars and a few touristy shops. Mostly western gear. We were here a couple of years ago, staying in a condo and really liked it, so here we are again, a little out of our way but it got us off the interstate for a while.
Diary Photos
15th Aug 2017 TJs at the Forge
No Description
---