sailingfastforward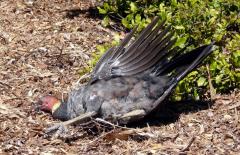 8th Feb 2009 - 22nd Feb 2009
Brisbane, Mountains, Australia Zoo and more
The Sunshine Coast, less brash and commercial than the Gold Coast, is only about an hours drive north of Brisbane, and is apparently one of the most gorgeous stretches of Queensland's coastline. The region is backed by the dramatic Glass House Mountains which rise from the sheer grassy plains to the west.
We actually caught our first glimpse of these strangely shaped mountains when we first arrived in Australia at the end of October 08, and they kept us guessing until our friend Michelle saw photos and commented on them.
Steve and Maggie's holiday started off well in Brisbane, but the perfect weather was predicted to change for the worse! We set off to Moreton Bay regardless, as we really wanted them to at least walk on a gorgeous beach and not be city bound for their entire holiday with us. We spent a delightful couple of hours walking the seemingly endless stretch of beach, where we came across hundreds of strange little crabs. From a distance they would all scurry towards the water en masse – it was like the beach was moving there were so many!! When we got closer, they would quickly dig themselves into a hole and disappear! It was fascinating!! We figured that perhaps it had something to do with the fact that it was full moon…
The weather forecast on Friday morning was grim, so we decided to up anchor and head to Scarborough Marina. The wind had picked up substantially at around the halfway mark, and it began pouring with rain. Once inside the marina area it was impossible for Ken to get the boat close enough to the dock for me to jump off and secure the lines, as the 25-30 knot winds just kept pushing us off the dock! By the third attempt I saw some people running to help us… bless them!
We picked up the car at 11:30am on Saturday morning and : went shopping! What else was there to do when it was raining?! Sunday morning had us up bright and early as we were "going on holiday".
45 minutes later we caught our first glimpses of the Glass House Mountains – a cluster of craggy volcanic peaks towering over a scenic patchwork of bush-land, pine plantations and small farms. The steep sided and heavily eroded mountains were formed by volcanic activity millions of years ago. They are so named because of tricks of reflected light on the rain-damped peaks, first noted by Captain Cook from offshore.
Volcanic soil is very fertile and area is renowned for macadamia nuts, pineapples, and other fruit.
Eight of the 16 peaks fall within the 920 hectare National Park. The other eight belong to Aboriginal owners, the Gubbi Gubbi people, who regard the mountains as sacred – frowning on attempts to climb them… so trails have been created within the national park.
We drove up one of the smaller ones… then walked up two of the others!!! The first one was SO steep I thought my poor heart was going to stop! But the views were well worth the effort. The second one was much easier and afforded us a great view from a different perspective – we were quite chuffed that we'd done both as the views were amazing, but different. We actually only attempted the second mountain later on that afternoon after having a very refreshing swim at our "farm style" accommodation… which I might add, simply blew us away – the place was enormous! There were two big en suite bedrooms leading off an equally huge lounge/dining room area… which we had all to ourselves! It was fabulous! The farm's backdrop was Mt Tibrogargen, which was simply gorgeous at sunset.
AUSTRALIA ZOO
After a hearty breakfast we set off at around 8:45am for the Australia Zoo, which is one of Queensland's top tourist attractions… and we were pleased that it was a Monday! The zoo was well laid out, and all the animals have names too! Interaction with the animals is also encouraged, and we all stood in line with the kids to feed the elephants, touch the seriously cute koala's, and wander amongst wallabies and kangaroos lazing about in the sun waiting to have their heads scratched!!
They also have scheduled shows on during the day, my favourite was the Bengal Tigers – we didn't realize they actually loved water! They had a glass front tank in their enclosure, and the show was basically "playtime" for the trainers and tigers (who were all apparently cubs!!). What magnificent creatures!!! The otter show was very informative too – they are such cute and super intelligent little creatures (who could eat you out of house and home apparently!). Undoubtedly the main show is at the "Animal Planet Crocoseum" where handlers hand feed crocs and a range of exotic birds swoop through the crowd every so often. All in all it was a good all-day outing.
The holiday city of Caloundra was where we'd be spending the night before returning to Scarborough the following day. It's the first major town at the southern end of the Sunshine Coast – and has been transformed from a sleepy backwater into one of the fastest growing cities in Australia. In 1961 the population stood at 3 000 – by 2005 it had reached 85 000!! A big drawcard is the Pumicestone Passage (which has nothing to do with pedicures!) – actually it's a rather picturesque channel that separates Caloundra from Bribie Island (another national park which also attracts thousands), but the real recreational emphasis rests on the excellence of its surf beaches.
CALOUNDRA
The hotel we were booked into was another great find – we had rooms up on the 5th or 6th floor - and standing on our balconies we could see for miles! Our evening meal worked out well as they had a bbq area – so we whipped off to Coles, picked up some steaks and salad, braaied our meat – and savoured the delicious on our balcony! It was bliss until sunrise…
At around 6am the parrots were enough to make you want to chop down the trees!!! They just screeched and screeched and screeched! After that rude awakening, I snuck out of bed and closed the shutters to block out the blinding light in the bedroom… then sat on the balcony and soaked in the start of another gorgeous day.
Within 2 hours heavy clouds brought rain and cut our day short. We stopped at the distinctive Ettamogah Pub and "village shops" for a refreshment before heading back to Scarborough. The pub is actually a working tavern built to resemble the imaginary Outback hotel made famous by cartoonist Ken Maynard in Australian Post magazine. Maynard's drawings pictured the building tilting crazily in all directions. The real-life pub has been built exactly as Maynard drew it, only to a larger then life scale.
Back in Scarborough, we had a last meal together at Morton's – but the weather was still fickle and it rained on and off… so there we were sitting huddled under a huge umbrella eating our fish and chips!!
At 4am our alarms beeped wildly, urging us out of bed… we had to leave at 5am to get Steve and Maggie to the airport on time. We were told that it could sometimes take an hour to get there, so we preferred to leave really early!! It all worked out well in the end and by noon they were in Perth… ready for the last leg of their holiday!
The day after Steve and Maggie left, our next lot of guests arrived. We offered Ray and Marilyn a "nice change of scenery"… and they accepted – staying for 3 days. Their boat, Horizon, was tucked safely away in East Coast Marina, Manly – about 40 minutes south of Brisbane.
Ken's birthday was the following day, so we invited Ron and Joanne (Miss Jody) and Willi and Gloria (Linger Longer) to join the four of us for a delicious bbq on board Fast Forward that evening. What a fabulous evening it turned out to be!!
It was a good month… and an old Dean Martin song actually springs to mind… "Memories are made of this".
Diary Photos
9th Feb 2009 Crazy bush turkey!! Brisbane Botanical Gardens
---
9th Feb 2009 Bird cross pollinating strelitzia - Brisbane botanical gardens
---
12th Feb 2009 Wrecks at Tangaloom, Moreton Island
---
12th Feb 2009 Smooth landing...
---
12th Feb 2009 Starfish - Moreton Island
---
12th Feb 2009 Moreton Island... FF anchored in the distance
---
12th Feb 2009 8 legged starfish.... gorgeous!
---
12th Feb 2009 Totally dwarfed! Moreton island
---
12th Feb 2009 Moreton Island
---
12th Feb 2009 Strange little blue crabs
---
12th Feb 2009 Looking out over Moreton Bay
---
12th Feb 2009 Heading back down the beach towards the yacht
---
14th Feb 2009 Dinner on board... and it happend to be Valentines Day... not that anyone really noticed!
---
15th Feb 2009 Glass House Mountains...
---
15th Feb 2009 Taking a break from our walk up the seemingly endlessly steep path!
---
15th Feb 2009 Glass House Mountains
---
16th Feb 2009 Feeding the elephants at Australia Zoo
---
16th Feb 2009 What the zoo is famous for...
---
16th Feb 2009 Such cool creatures!
---
16th Feb 2009 How seriously cute is this?!
---
16th Feb 2009 Another adorable koala
---
---
20th Feb 2009 Birthday boy....
---
20th Feb 2009 Master Braaier
---
20th Feb 2009 Make a wish....
---