Education is Light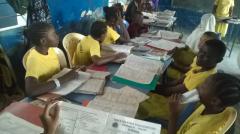 15th Sep 2017
Mary
'My name is Mary Magdaline,am 14 years old and now in STD 6 at the Mtwapa Academy. In my family we are 3 people i.e myself, my mother and my elder brother. The name of my mother is called Esther and my brother is called Emmanuel. We live in a village called Bamburi which is near Mtwapa.Our house is a one-roomed house. My mother is local hairdresser.
Am happy to be sponsored in the Mtomondoni sponsorship program and love going to school,Mtwapa Academy. During school days I wake up at 4.00am then start preparing myself by brushing my teeth, put on my uniform and final have a cup of tea with 'mahamri' Swahili snacks. My mother cooks my breakfast using a paraffin stove. I leave home for school at 5.00 am and start going to school where I reach at school at 6.00am. As from 6.30 we start our morning lessons until 8.00 am when we have school assembly up to 8.30 am where we go to our classes to begin the normal classes.
I love school because it is in good condition, well built, clean and the teachers are teaching well. For the subjects I do the following,Maths,English,Kiswahili,Science,Social studies and Christian Religion Education (C.R.E).My favorite subject is Maths.
In my school we have clubs and am happy to have joined some of the clubs i.e scout and debate clubs. In the scout/girl guide am the assistant commander while in the debate club am the debate organizer. My main work as a debate organizer is that I prepare the debate team and the motion to be debated. An example of one of the debates which I felt it was the best debate which I organized had a motion topic as……..'A teacher is better that a Doctor' where the winning team were the proposers. To me I have at least two reasons to why the proposers won, firstly the teacher is the one who taught the doctor. Secondly I teacher helps pupils to reach their goals. The advantages of the debates are that they help the student participants to build confidence in talking to public and not be shy.
Also I love play games like football and handball in school. I have many friends in school and my best friends are called Joyce,Fatuma,Esther and Angela. I love my friends because we study together and help each other in sharing knowledge. I love my teachers too.
My school day ends at 5.30 pm and arrive back home at 6.30 pm. Soon I reach home I help my mother with some house work before start doing my home work. While at home and during mealtime my favorite meal is rice and fish, cooked corn flour meal with fish.
During weekends I spend my time revising my school notes and also try to attempt model examination papers after that I go out play with my friends. On Sundays, me and my mother go to church for services, the name of our church is called 'Neno Evangelism church situated at a place Burton.
Finally I want to say many thanks to all of my sponsors, through the sponsorship which have been a great support. Through the sponsorship my mother has been relieved as she's been struggling to get a job and instead she had engaged herself in local hairdressing but unfortunately she sometimes doesn't get enough money for us all.
Good bye,from your loving daughter Mary.'
Diary Photos
---