Education is Light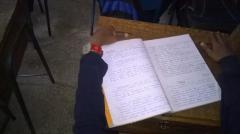 23rd Sep 2017
Ibrahim
Hi! Everyone,
'My name is Ibrahim aged 17 years old and now in secondary school from 2.The name of my school is called Moi Forces Academy situated in the Southern part of Mombasa. Our school was established in the year 2001,unlike other secondary schools, our school was built and managed by the armed forces of Kenya i.e the Kenya Army, Kenya Navy and the Kenya Air force. The primary objective of building the school was for the purpose of the kids whose parents working in the forces to be learning in one school school and taken good care of as their parents are out at war or on other important security missions. However the management of the school further extended its objective and considered the civilians and that is why, I was too admitted at this school under the Mtomondoni sponsorship program.
In my form 2 class we are 72 students and all boys. Actually our school is a mixed school learning in the same building but separated in a way i.e we boys learn in the upper floors of the school while the girls are situated in the down floor of the school. In total we are about 600 students in the entire school with a total of about 30 teachers. The subjects we do at the school are Maths, English, Physics, Chemistry, Kiswahili, Islamic Religion Education (I.R.E), Geography and Business Education.
I love my school as the teachers are soo helpfull.Also most of the times, we students undergo guidance and counseling sessions and as a result all students are disciplined. Also the management is very strict in terms of making sure that no student is involved in drug use or any kind of indiscipline behavior. As a result our school has been able to produce very good results in the national exams with most of the years producing more than two thirds of the whole lot of the candidates admitted to the national universities which mostly is an average of 120 students sitting for the national exam.
In our school we have science laboratories i.e physics, chemistry and biology labs. Also we have a large school library where we go to read and do references. Also we have spots like football, basketball and rugby.
Here below is our school time table;-
7.30-8.00 am………………….school assembly.
8.10.-8.50 am…………………1st morning lesson begins.
8.50-9.30 am………………….2nd morning lesson.
9.30-9.40 am…………………short morning break.
9.40-10.20 am……………..3rd morning lesson.
10.20-11.00 am……………4th morning lesson.
11.00-11.20 am………….long morning break.
11.20-12.00 noon……….5th lesson.
12.00-12.40 pm……………..6th lesson.
12.40-1.10 pm……………..7th lesson.
1.10-2.00 pm……………..Lunch.
2.00-2.40 pm……………..8th lesson.
2.40 pm-3.20 pm……….9th lesson
3.20-4.00pm…………..10th lesson.
4.00-5.00 pm ……………Games.
5.00pm………..End of day class sessions.
Being a boarder, here below is the general school weekly food menu;-
Monday………………'githeri'(corn maize) mixed and cooked with beans.
Tuesday……………Rice with beans.
Wednesday………'ugali' (corn flour) cooked with cabbage.
Thursday…………..'pilau'.
Friday…………….'githeri'
Saturday…………'ugali' with cabbage.
For breakfast we always have tea with bread. The entire above menu is served with banana fruit.
After the games we break and proceed to our dormitories where we have shower, rest and go to take supper. After supper we have a short break then we do some night lessons i.e between 7.00 pm- 9.20 pm, thereafter we go to sleep. I wake up every day at 3.20 am, pray and start preparing myself for classes. In my dormitory we a 10 students and we are all co-operative.
For my future career I would like to be a pilot and that is why my favorite subjects is Maths.I do also love the other subjects too and that is why I've been performing well in the rest of the subjects too. Normal we have monthly exams called CATs i.e Continuous Assessment Tests then in the final third month of the term we do have the end of term exam.
Finally to all of my sponsors, I want to send my lots of thanks for the sponsorship which have really helped me ,grandmother and my mother is has been having a long illness unabling her to pay for me my school fees.
Bye bye from loving kid, Ibrahim'
Diary Photos
---