sailingfastforward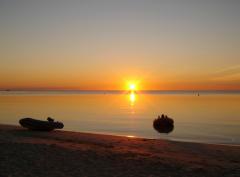 23rd May 2009 - 3rd Jun 2009




Lizard Island



Lizard Island here we come!! We had heard rave reviews of this special place, and I was hoping that we were not going to be disappointed as weÂ'd not been overly enamoured with the Queensland coastline thus far.

The overnight trip was uneventful, and the few ships that passed us in the shipping channel were all courteous. Our approach to Lizard Island the following morning was just amazing. It was a gorgeous day – the wind had dropped off completely and the sea was like a milk pond.

As we headed into the anchorage we could see 10 boats anchored there already. It was GORGEOUS! When Ken dropped the anchor he could see it on the bottom! The water was like gin and no crocs, ritual sunset drinks on the beach at 5pm… paradise found at last!! We've waited 5 months to experience this… and this is what cruising is all about – clear water, gorgeous beach and not a shop in sight!

COD HOLE
As the weather was still perfectly calm, we set off at 7:30am the next morning for The Cod Hole which was a mere 12nm to the southeast – we were motoring in company with Mark and Nicolle on a yacht called Sea Life. We had Roger (Catimini) on board, and David (Reflections) was traveling with them.

As it shelved off very quickly, the National Park had put buoys down for everyone to use. One could also only be there in a calm-ish S/SE breeze because if the wind turned the boat would be on crunching on reef. Not nice.

As soon as we were settled we peered over the side and could already see huge fish waiting for us to get in!! Ken also spotted a shark coasting past the boat and my stomach did a quick somersault as I donÂ't trust those evil grins!! At least it wasnÂ't hugeÂ…

Once we were kitted out in our wetsuits we headed over to Sea Life, who were going to be SCUBA diving – we would be snorkeling. I slipped into the water and could not believe my eyes, beside the fact that the water was amazingly clear, the Potato Cod were HUGE!! The Cod Hole is frequented by dive tour operators who feed them (which is not a bad thing), so they were very friendly and would just about swim right up to you! It was amazing! We spent about 2 hours swimming along that reef and were really pleasantly surprised at how unfazed most of the fish were – the Parrotfish were huge as well, the biggest we'd seen since Venezuela. Finally we spotted a very shy Maori Wrasse… and oh my goodness, it was ENORMOUS to say the least (roughly the length of a 6 seater dinner table. REALLY!). The coral was in good condition too - overall it was a really really good "dive" and such a treat being in the water again! We rounded off that day with a fish braai on board Fast Forward – recently caught fish kindly supplied by David and salads and freshly baked focaccia bread supplied by ourselves. We arrived back just in time for drinks on the beach!

RESEARCH STATION
About 6 boats dinghied round to the research station the following day, on Monday's a brief tour is offered at 11am sharp... the documentary was very informative and it briefly explained what the researches did there and how the station was funded, etc. Dr Lyle was saying that annual coral spawning (a phenomenon that occurs on one evening a year) was only discovered in 1981!!

The process begins 6 months before when eggs and sperm begin to form inside the coral polyps. For spawning to take place, water temperatures must be 27 degrees or more. But corals need a specific cue so they can release eggs and sperm into the water at exactly the same time. That cue is November's full moon and on the 2nd to 6th night following the full moon the majority of corals spawn. The first sign of spawning is the sight of coloured bundles of eggs inside female polyps; these are held under the mouths of the polyps and are visible through the transparent tissues. The bundles are squeezed out through the mouths of the polyps and released. All the polyps in a colony can do this in minutes. Meanwhile male corals produce clouds of sperm. Floating up to the surface the eggs and sperm form a slick on the seas surface for days.

Spawning is timed to coincide with periods when there are minimum tidal movements, which allows the sex's time to find representatives from the same species and mix and match before being swept away. Coral spawning is a once in a lifetime experience and highlight of night diving during November and December.

How fascinating!! Nature, and particularly the underwater world is just so complex I donÂ't think mankind will ever have all the answers.

Back on the boat, we had lunch and then dinghied back to that bay with friends to snorkel... again a beautiful reef and many many fish, however the water was a bit murky – but I did get great pics of a turtle (who is obviously used to researchers and was not skitty at all!). We were trying to squeeze in as many water activities as possible as the weather was scheduled to deteriorate, so we had one more snorkel on the northern side of the island which was fantastic to say the least.

Ken helped Roger with an electrical problem one morning; and so I went off with Lucie (Rogers wife), and Juliet (Reflections) to help them with their laundry. Both Juliet and I have washing machines - but she took a few things with just for the fun of it (!!) - and I went along to pump the water, it was one of those kangaroo pumps that used to be on the farms in the olden days - with a little tank that needed to be primed with a litre of water beforehand, and then pumping the handle up and down rather vigorously forced the water up and out.... there was an endless supply and quite a lot was needed to rinse all the clothes! It was such fun and I got a good arm workout too! SO thankful to have a washing machine though!!!!

There was a fantastic atmosphere with 30 boats in the anchorage as about 95% of them were headed to Darwin and were also participating in the Indonesian Rally. The rest of them were headed round to the Kimberley's on the west coast, and then further south to the Perth area. The daily "drinks on the beach" at 5pm was such a great way to get to know people of course.

3 days after we'd arrived my tooth was pain free (thanks to many Voltaren's!), but it was like magic – one minute I could not apply any pressure to the tooth whatsoever – not even touch it with my tongue, and suddenly one morning I could! Amazing – and nice to let out a sigh of relief too!!!

The weather changed after 5 days, and it became very windy… we hunkered down and waited for better days! There was certainly enough to keep us occupied on the island – like walks over to Blue Lagoon (sounds gorgeous doesn't it!) – and it was! We also enjoyed a pizza evening on board Fast Forward; as well as a second visit to the research station where we learned that the odd croc actually does make it all the way out to Lizard Island! They captured the last one in January 09… they do however tend to prefer the muddy mangrove area, but do I feel consoled by this? Most definitely not!

Good old Captain Cook anchored in one of the bays around Lizard Island in 1770, and we were following in his footsteps by climbing the hill to a famous lookout called CookÂ's Look. Here he was able to plot his passage through the treacherous Great Barrier Reef. It was a pleasant and not too strenuous a walk to reach the islandsÂ' highest point (359m/1178ft). Cook named the island after on the 11 species of lizard that lived here. Green and loggerhead turtles nest here in late spring, and black flying foxes inhabit the mangroves. We didnÂ't spot any of those big lizardsÂ… perhaps they are tasty treats for the crocs?

A well known fact is that all good things eventually do come to an endÂ… the weather had finally sorted itself out and it was time to move on. Lizard Island was truly an amazing stopover... but Thursday Island was now on our lips!



Diary Photos
23rd May 2009 Our first sunset at Lizard - isn't it just gorgeous?!
---
23rd May 2009 First sunset drinks session on the beach
---
24th May 2009 Cod Hole - seriously close the reef!
---
24th May 2009 Audrey in awe of the potato cod, just could not get enough of them!
---
24th May 2009 Sailing back to Lizard... nice pic compliments of Nicolle!
---
24th May 2009 The insanely large potato cod... really difficult to judge the size in the photos unfortunately
---
24th May 2009 Pretty tame parrot fish... quite a large fellow too, easily around 70cm in length
---
24th May 2009 The very very shy, but exceptionally large Maori Wrasse
---
24th May 2009 My favourite Sweetlips!
---
24th May 2009 Try spot the resident inside the shell...
---
24th May 2009 Pretty little fish these...
---
24th May 2009 Another Sweetlips!
---
24th May 2009 Another gorgeous parrot fish.
---
24th May 2009 Another variety of parrot fish...
---
24th May 2009 Potato cod...
---
24th May 2009 Another potato cod
---
25th May 2009 What a great bunch!
---
25th May 2009 Nice snorkeling at Lizard... well worth the effort
---
25th May 2009 Nice to get so close to a turtle...
---
25th May 2009 What's a snorkel without a blacktip shark keeping everyone in check!
---
25th May 2009 Haven't found a Nemo yet - but this one is not bad.
---
25th May 2009 Nice colours!
---
25th May 2009 Another session with nice people!
---
26th May 2009 Yet another sunset drinks session! Note the tidal range!
---
26th May 2009 Ladies don't take your washing machines for granted!!
---
26th May 2009 Juliet and Lucie hard at work...
---
26th May 2009 What gorgeous colouring!
---
---
26th May 2009 Where's the 5th leg?
---
26th May 2009 BIG pufferfish!
---
26th May 2009 Got him again on the way back!
---
26th May 2009 Part of another giant clam...
---
26th May 2009 Another clown fish, but not a Nemo!
---
27th May 2009 Odd boulders at Blue Lagoon
---
27th May 2009 Another odd boulder... bit like a cracked boiled egg.
---
29th May 2009 View of anchorage at Lizard - not even a quarter of way up!
---
29th May 2009 We made it - and it's just gorgeous!
---
29th May 2009 Looking south from Cooks Look
---
29th May 2009 Anchorage at Lizard... looking east from Cooks Look
---
29th May 2009 And this is moi!
---
29th May 2009 And this is Ken!
---
30th May 2009 Blue Lagoon - stunning hey?
---