sailingfastforward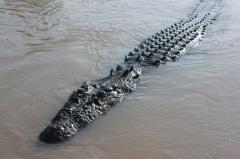 2nd Jul 2009
Jumping Crocs, Spoonbills and B-52's!
Darwin is a great little city, but if you've done the markets, museums and malls – and don't fancy doing on an overland roadtrip to Kakadu or Litchfield National Park… then what is a stay at "the top end" without a visit to see the famous "jumping crocs"?

A group of us departed at 7:30am, and drove in convoy past the Fogg Dam to the family run business called Hunter Safaris. Whilst waiting to depart we read newspaper clippings which varied from "biggest croc ever" to "yet another child killed by croc". As far as I'm concerned this is the most dangerous reptile in Northern Australia, and possibly the world so just as
I respect the sea – I respect the first in the food chain!!

So what better way to see crocodiles in their natural habitat, even if their behaviour is modified a little by hand feeding from the tour boats. The cruises were started in 1985 by a couple of crocodile hunters made redundant by both a lack of crocs to hunt and changes in the conservation laws making it illegal anyway. Today the crocodile population has returned to something similar to pre-European numbers, however getting close to them in the wild can be both difficult and dangerous, except on this short stretch of the Adelaide River where they are used to the tour boats.

When it came time to hit the river Ken and I were thrilled to see that we were on a small boat – and that we'd be close to the water: ie close to the action!! Despite the crowd being about 18 strong, there was more then enough room to move about and take pics. Morgan started up the engine and gave us the obligatory safety warnings which basically left us with the understanding that if we did have to abandon the boat, or ended up in the water for any reason then that would probably be it for us – over, done, kaput, no more…

Before we even left the dock there was already a huge 4.5m croc floating motionless next the boat! Whilst still ashore someone mentioned that it was plastic – so I figured "nice gimmick!". When I sat down on the boat – less than 2 meters from the croc IT BLINKED!!! OH MY GOODNESS! We quickly realised why he'd been so patient, he'd become so accustomed to this "feeding for tourism caper" and could differentiate the boats that provide them with fresh meat from the ones that don't, so they're not shy in making themselves known to the meat providing boats.

We motored across to the opposite side of the river and up onto the bank… large croc in tow! Morgan attached a hunk of buffalo meat to very small wire hook and went to the front of the boat where he warned us once again that if we valued our appendages we were to keep them inside the rail! He dangled the meat in the air… using his extremely powerful tail, the croc leapt up snapping it cleanly off the hook!! It all happened so quickly! Amazing!

Now if you've never seen it, a crocodile thrusting itself vertically out of the water with its razor sharp teeth poised to snap down on its prey is really something to behold, and it's not unnatural behaviour either. Even seeing a "little" croc jumping was spectacular. And as we worked our way along the rivers' edge more and more crocs approached the boat – some so well camouflaged in mud that you could not even see them - you became very aware that we were in the domain of something much bigger than ourselves. It really wasn't just a story… the waters of the Adelaide River are, in fact, crocodile infested.
Salties are the world's largest reptile, and freshwater crocs are found only in Australia. Salties remain in dwindling numbers in parts of Southeast Asia, but for high concentrations of these colossal prehistoric beauties, Australia is unsurpassed. Crikey.
Salties can grow to 7 metres (averaging around 4-5 meters), and weighing in at around 400-1500 kg's. Freshies chime in at a diminutive three metres and weigh around 70kg. Larger salties have been known to exceed one tonne, but a five-metre adult is roughly half that. It's estimated there are up to 150,000 salties in Australia's northern states, and the NT's vast Mary River system, Australia's most diverse ecosystem, is home to the largest concentration of the beasts in the world. Interestingly, the Mary River wetlands were also once home to Rodney Ansell, the colourful character who provided the inspiration for Mick Dundee from Crocodile Dundee.
One of NT's most famous crocodiles is preserved at the Darwin Museum. Sweetheart was a 5.4 meter male croc famous for attacking outboard motors on local fishing boats who strayed into its territory in Sweet's Lookout Billabong. Eventually trapped by Park Rangers but finished up in the museum because it did not survive the trapping.

Unfortunately we weren't lucky enough to have a croc known as Hannibal jump for us. Hannibal is the most famous croc in this part of the river purely for its size and ferocity. He is clearly the king of the castle at 6 metres long and estimated to be around 100 years old.

But we did have more to look at than just crocs! Perched high above the dangers of the crocodiles is a feast of birdlife – Cockatoos, Magpie Geese, Dollar Birds and Hawks (known as Kites in the NT) and Sea Eagles. Kingfishers and Corellas gather in flocks of hundreds on the marshy floodplains beside the river.


Fogg Dam Birdwatching

After the tour, Morgan advised us to stop over at the Fogg Dam birdwatching conservation park to see birds galore, including Jabiru, Brolga, Magpie Geese and scores of other species which have been sighted in this reserve. During the wet season wetlands like this cover hundreds of thousands of square kilometres. Since it was the dry season, the wetlands had shrunk to as little as 2% of the area, resulting in a concentration of water birds in the remaining water. With open water, floodplain, monsoon and paperbark forest, and swamp environments all in a small area, there is suitable habitat for many different types of birds.
It was amazing! There were so many birds and you don't need even to be an ardent birdwatcher to be impressed… apparently there were confirmed sightings of 230 species of birds have been listed here in The Australian Bird Atlas.


Aviation Museum

After a great lunch in Humpty Doo, and a safe swim at a natural pool – we decided to pop in to see the B-52 Bomber at the Aviation Museum, which also houses a replica Spitfire, Mirage Fighter, ex RAAF Sabre – and many many other aeroplanes. And you didn't even have to be an aeroplane fanatic to enjoy the fantastic display.

Darwin's location as the first landfall for planes travelling from the UK and its proximity to Asia has ensured it a unique place in Australia's aviation history. It has also been an important military base for the Australian and US Air Forces and Darwin residents are used to seeing front line military planes in the sky.

The fully refurbished B-52G bomber on permanent loan from the USAF has been on display at the Aviation Museum since it's opening in 1990. The first B-52As were delivered to the Strategic Air Command in 1954 where they became the primary airplane of the command. A total of 744 B-52s were built with the last, a B-52H, delivered in October 1962. Only the H model is still in the Air Force inventory and all are assigned to Air Combat Command. The B-52H was designed for nuclear standoff, but it now has the conventional warfare role with the retirement of the B-52G.
Over the years the B52's have been modernised with the latest electronics and weapons systems and have a projected life into 2040, although only around 100 are still flying. The B-52 has found other roles. It is used for ocean surveillance: two B-52s can monitor a 140,000-square-mile (364,000-square-kilometer) section of ocean in two hours, helping the navy in anti-ship and mine-laying operations.

Crickey mate, as much as I rave about the intensity of this experience I'm not convinced that I can paint a complete picture with words so that's why there are LOADS of pics!!
Diary Photos
2nd Jul 2009 Pretty big boy this!
---
2nd Jul 2009 Waiting patiently!
---
2nd Jul 2009 Some of the bunch!
---
2nd Jul 2009 Evil knievel
---
2nd Jul 2009 Handbags handbags everywhere!
---
---
---
---
---
2nd Jul 2009 Action on the right...
---
---
---
---
---
---
---
2nd Jul 2009 Information board...
---
2nd Jul 2009 Beautiful Spoonbills
---
---
---
2nd Jul 2009 Huge termite mounds... with David and Juliet
---
2nd Jul 2009 Some colourful locals relaxing at the natural pools who'd consumed copious amounts of rum and coke!
---
2nd Jul 2009 Road train...
---
---
2nd Jul 2009 Aviation Museum
---