On On Home around Australia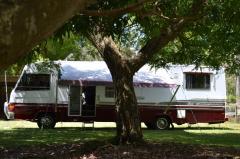 1st Dec 2017 - 7th Dec 2017
Week 437 - Casino
Passing through Brisbane is never calm, always hectic. Dinners, rendezvous, dentists, shopping and unavoidable business. The South East Queensland Hash House Harriers combined Christmas party was a great catch up with old hashers and great friends from the past. Everyone of them has aged, most of them gracefully.
The eskies were supplied by Hawkeye, a wild selection of out of date beer, many of them classics in their own right. So the sale by date didn't really effect their boutique taste. The good thing about good beer, is that it does not give you a hangover, unlike the crap XXXX and the commercial breweries produce.
Before we left Peter's, we carefully packed and prepared the bus for our journey south. We pulled into the weighbridge at Chandler and our weight was well below the weight limit of the law.
A comparatively short stay in Brisbane saw us heading down the freeway dodging the showers and the scaley's on our way to Casino.
Casino was how we left it. The new owners are still doing a great job of the grounds and facilities. The clientele of the village has certainly matured somewhat and sadly a few faces have left this planet. However, the party spirit still goes on - happy hours, the 8 ball dinner and the village Christmas party, we timed our visit well.
We hope to be on the Murray by Christmas/New Year. So keep a look out for us on the road in that area. On on Horror, Wanger and Ali Achbar (Rusti).
Diary Photos
1st Dec 2017 Resting in the shade
We were parked at Peter's in Chandler for the SEQ Hash House Harriers Christmas Party.
---
2nd Dec 2017 Bushy Creek
The tranquil setting for the drunken frolics of hash.
---
3rd Dec 2017 Eastern Carpet Python
A friendly non venomous snake, often found in the backyard of Brisbane.
---
6th Dec 2017 On On Home at home.
Our house in Casino is looking good and the village made us welcome with happy hours every night.
---