On On Home around Australia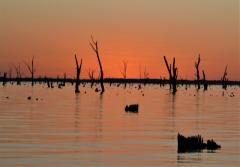 6th Jan 2018 - 12th Jan 2018
Week 442 - Echuca
We have had a busy and varied week, departing Lake Mulwala on Sunday and heading west to Tocumwal. On arrival the hoards of Christmas and New Year revellers were departing in droves and surprisingly left the Town Beach for us to enjoy. The daytime temperatures were up in the mid 30's, so a dip in the Murray was most welcoming every afternoon. The wildlife was abundant with the roos in the morning and the birdlife in the afternoon. Next door was an inexpensive restaurant where we could get an egg and bacon breakfast for $10 - luxury!! and as a bonus, there was a very pleasant walk through the forest and at the end of the track was the Tocumwal Hotel. Ordinary beers, but a welcome cold one after a warm day.
Next stop Echuca, a little bit disappointing as the busy tourist strip was basically empty and not a tug boat to be seen. However, we could hear the steam engines in the distance as we sucked on a pint of Keepers from the Cricketers Arms Group - a very tasty drop. At Echuca we camped down by the Campaspe River, a little bit dusty and a little bit dry, yet very peaceful.
Our company for the Echuca leg was Allan and Di from Hervey Bay whom we met about six years ago at Port Augusta. It's nice to catch up with fellow travellers once in a while.
So our journey South West to Adelaide is progresssing to a tight schedule.
Diary Photos
---