On On Home around Australia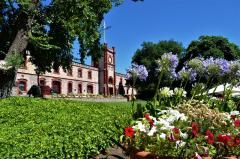 20th Jan 2018 - 26th Jan 2018
Week 444 - Eden Valley
South Australia has been hit by heat wave conditions. We have survived the first wave of heat and the weather forecasters are predicting another wave this weekend before a welcome cool change. Our walks with the dogs along the Murray were early mornings and late evenings and a swim in the Murray was a luxury to behold.
We had planned to have a couple of nights at Blanchetown, but the campsites along the river were feral and seemed unsafe. Also the local caravan park looked more like a refuge camp than a holiday camp. So we decided to drive through to Angaston and parked up at the back of the pub, which we have done before. The beer of the day was Coopers Pale Ale at $7 a pint.
Moving on, we passed the road sign warning us that we were entering the Barossa Valley. As you can imagine, the scenery is magnificent but drier than we have witnessed before. I don't know where the farmers get their water from but they were irrigating continuously to preserve the rows and rows of grapevines.
As you drive through the area, you can smell the investments of the profiteers and the townships are rich with new infrastructure. The towns are well kept, the gardens are manicured and any litter is cleaned up immediately, which makes the country drives and the scenery very pretty.
So we are camped up at Eden Valley Recreation Grounds, awaiting the next wave of weather.
Diary Photos
20th Jan 2018 Yalumba winery
The picturesque Yalumba winery
---
20th Jan 2018 Australian Pelican
An Australian Pelican takes a swim in the Murray to survive the heat.
---
23rd Jan 2018 Lock Number 1
One of 15 locks on the Murray River. Can you see the Cormorants on the lock wall?
---
23rd Jan 2018 Blanchetown
Blanchetown is a remote community on the Murray and the local camping grounds and caravan parks house the underprivileged.
---
24th Jan 2018 Black and White
Angaston is set amongst a botanical garden and well kept by the local authorities.
---
25th Jan 2018 God's country
The views from Eden Valley Lookout - you can see forever.
---