On On Home around Australia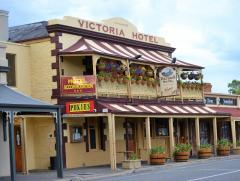 3rd Feb 2018 - 9th Feb 2018
Week 446 - Strathalbyn
This week has all been about old friends George and Dot in Strathalbyn. We first met Dotty through the internet on the CMCA Forum, way back in 2009 and have managed to catch up more than a few times. George gutted a Fuso bus and transformed it into a spacious motorhome, demonstrating all the skills of a craftsman.
Strathalbyn is a picturesque self contained town. All that you need is here nestled amongst the scenic vistas of the river and township.
By coincidence we heard Double Bum was in our area, so we arranged a get together and an evening meal at The Victoria Hotel. A big rambling old pub. We hadn't seen Double Bum for 12 years, but the conversation continued as though it was yesterday. A lot of reminiscing and story telling. A classic night of old hash friendship.
And by another coincidence, an old flying buddy of ours, Inge, also lives reasonably local on the beachfront of Adlinga Beach. Adlinga Beach was very picturesque but I did not have my camera, so we intend to revisit and I promise I will get some great photography from that area.
Our camp spot is a large paddock next to Dot and George's house and of an evening the Little Corellas flock to the surrounding trees in their hundreds. Pests may be, but quite spectacular, yet difficult to photograph.
So tomorrow, we attend The Stranglers in concert, the main reason for our visit to Adelaide at this time of year. All the reviews so far have been good and we are looking forward to this long awaited event.
Diary Photos
4th Feb 2018 Victoria Hotel
Built in 1865, this is a rambling old pub which has had many additions over the years. Some good, some not so good.
---
4th Feb 2018 The pier at Henley
A magnificent summer day at the beach at Henley
---
7th Feb 2018 Coffee set
We spent the morning at Henley Beach enjoying the coffee set.
---
7th Feb 2018 Catch up with Double Bum
---
7th Feb 2018 St Andrew's Church
St Andrew's Church overlooks the township of Strathalbyn.
---
9th Feb 2018 Strathalbyn Silos
Maybe one train a week uses the track. A sign of times gone by.
---