On On Home around Australia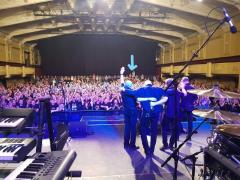 10th Feb 2018 - 16th Feb 2018
Week 447 - Strathalbyn
Our journey to Adelaide is now complete. We witnessed The Stranglers at Thebarton Theatre, which once was the old Town Hall. The building itself was in a state of decay, a shocking venue but the fans didn't seem to mind. We were only there for the sounds of The Stranglers and they didn't disappoint, such classics as Peaches was pumped out at ear pearcing volume.
I first got involved with The Stranglers back in 1975. They did a gig at the pub in Fulham standing in for a band didn't turn up. Sheer coincidence!! I have seen them live many times including three concerts in sunny Australia. It is surprising how many hits they had, charting 40 plus singles and as many albums over a period of 43 years.
The pub culture in Adelaide seems to be struggling a bit, however, you can stumble across a few good beers here and there. Old Speckled Hen never disappoints nor does White Rabbit Dark Ale.
We have done a few excursions around the area, exploring Adelaide and Hahndorf.
On the Chinese New Year, Jo did a tour of the markets at Chinatown; tasting cider, cake and cheese.
So this week, has really been all about the Stranglers and sadly it may be the last time we see the band perform together.
We have been parked at Dot and George's now for 16 days and I have taken on some unwanted maintenance tasks that I had been putting off. Thankfully, they are now all done with the help of George and his trusty men's shed. We are now planning to depart Strathalbyn in the next few days.
Diary Photos
10th Feb 2018 The Stranglers official photograph
You can see us at the back, Jo was wearing a red outfit, seated at the back, I am next to her, standing in black (under the arrow).
---
10th Feb 2018 The Elephant
A pint of Old Speckled Hen, for the princely sum of $14.
---
10th Feb 2018 The Stranglers on set
The Stranglers Antipodes Tour - they did two shows in NZ and four in Australia.
---
15th Feb 2018 Bavarians
The Bavarian dances gave a traditional display of bell ringing and dancing.
---
15th Feb 2018 The German Arms, Hahndorf
Don't mention the war. A good selection of beers were always at hand.
---