On On Home around Australia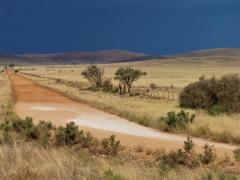 17th Feb 2018 - 23rd Feb 2018
Week 448 - Underbool
We departed Dotty's in the green and scenic Strathalbyn and headed East to the Mallee Highway, just a stepping stone to our Custodianship in Euston. Within minutes we are on outback roads, departing South Australia across the Mallee. Every 30 or so kilometres there is an abandoned township. This area must have been thriving at the turn of the 20th century.
Tonight we are camped at Underbool. The town is deserted, not a soul in sight and as you walk along the main street with Rusti at heel, all that remains are plaques depicting that a building stood there at some stage. The pub is closed, the police station unattended and only one coffee shop in business.
At another township back down the road, it was the same story. Geranium had also been abandoned, just a skeleton population of the townsfolk where we had the privilege of joining in a game of bowls with the remaining locals and what a friendly bunch they were.
As we crossed the border from South Australia to Victoria, the road improved slightly and the outback scenery became drier. Eventually as dusk fell we were entertained by a huge dust storm, followed by a brief shower concluded by a magnificent sunset.
We only have 170 km to our destination at Euston but we have three days to get there. Our next stop is Manangatang.
Diary Photos
19th Feb 2018 Typical outback country
The scenery is always changing and it is easy photography.
---
19th Feb 2018 Outback railways
During our travels, we have come across many abandoned, neglected and maybe used railway lines. The money spent and loss by the various governments must be huge.
---
21st Feb 2018 Sherlock Hall
Built in the 1920's, abandoned in the 60/70's and refurbished at the turn of the 21st Century.
---
21st Feb 2018 Camped at Geranium
We were camped at the rugby grounds that were abandoned in 1990.
---
22nd Feb 2018 Sunset
At the end of every day, there seems to be a spectacular sunset like this one.
---
23rd Feb 2018 Silos
Every town has a set of silos, every town was serviced by a railway at some stage, but now the semis do all the work.
---