New Zealand Adventure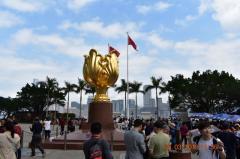 5th Mar 2018
Meeting friends and finding new way to get around Hong Kong
Decided to visit Golden Bahinia Square in the morning. Very hard to reach as mega construction work everywhere. We discovered that the HK government is building a new MTR rail line under the harbour from the mainland to HK island. After finding the Square we caught the MTR to Fortress Hill to meet friends Helen and Mark for lunch after they had flown in from Sydney in the early morning. Interesting Cali-Mex restaurant where you could pour your own beer. They had just returned from a New Zealand trip and gave us lots of useful pointers.Went up to their hotel room to freshen up. They were on the 27th floor and had the most fantastic view of Victoria Harbour from full length windows in their sitting room and bedroom. Could spend all day watching the activity in the harbour.
They decided to join us on trying out the old tram system that runs mainly East to West along the top of the island. We had to alight at Happy Valley race course which is a green haven amongst the sky scrapers. We decided to get the Star Ferry over to Kowloon on the mainland. We visited the 1881 Heritage Centre then caught the MTR to Mongkok which is the main shopping area for tourists. Streets dedicated to selling one item eg trainers and the Ladies Market which is a large street market aimed at tourists. We were flagging by this stage and stopped for refreshments, then caught the MTR back to the island and said our goodbyes.
Bernard and I caught the end of Happy Hour at the hotel and settled for a bar snack as we were too tired to venture out again,and had to pack ready to check out tomorrow.
Diary Photos
5th Mar 2018 Gordon Bahinia statue HK
---
5th Mar 2018 Help yourself to a beer Trisha
---
5th Mar 2018 HK trams - cheap and cheerful! 9p a trip
---
5th Mar 2018 Happy Valley HK with Mark and Helen
---
5th Mar 2018 Shopping heaven or hell!
---