Busy Doing Nothing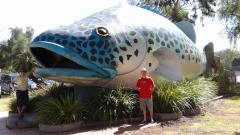 19th Feb 2018 - 3rd Mar 2018
Watch out Queensland - Here We Come
The next stage of the trip started in Bendigo in Victoria where we were introduced to our home for the next six weeks. Regular readers will remember our last trip to Oz in 2016 when we hired the beast that was Cazza & BygBlu that made our own 4x4 and caravan look like Dinky toys. This time we have a modest campervan which we hope will be a lot easier to cope with.
It didn't take long to be talked through how the van worked and we headed off to Swan Hill with the intention of continuing west before heading north east to eventually meet up with friends Chris & Viv in Caloundra just North of Brisbane in Queensland. The campsite in Swan Hill was beside the mighty Murray River and each evening we were treated to an awesome sight as hundreds of white cockatoos came in before dusk to roost in the gum trees. It was incredibly noisy but wonderful to watch as the many flocks jostled for positions amongst the trees and randomly all took off to swirl around before landing again in a bird version of what looked like musical branches. We've since discovered that many Australians consider them to be noisy pests but for us it was a splendid spectacle.
We had the first of many changes of plan and decided that heading West was a bad idea as it was too hot and this was better left towards the end of our trip. We headed North East and decided to stop off at Griffith, which is home to many Italians. Unfortunately, the camp site we booked was grim and our drive through the town didn't inspire us to linger so it became an overnight stop. The camp BBQ area was disgusting so we tried to use the pull-out BBQ on the van. That couldn't connect to the gas supply so we settled on a cheese & cracker dinner with plenty of red wine. Things went from bad to worse when Cheryl started to get bitten by mozzies and decided to close the door on the van forgetting the table was attached to it. Ooops! The table collapsed and the supporting leg fell off. Next morning the man in the office provided tools so that Neil could screw the thing back on.
Cheryl's son Alex has recently sold his business to Forbes and is now their European Editor so when we saw there was a town named Forbes in Australia it was the obvious choice for the next stop. It's also a town with historical buildings and had a local bad boy, Ben Hall. He was a bush ranger which means he robbed banks and people during the gold rush but he never shot anyone. He was eventually shot down by the police and ended up as a folk hero. We explored the town heritage trail and headed back for a BBQ dinner and ate outside the van. On this site we had a concrete slab beside the van to put out the table and chairs. The fixed table was at a slight angle as the slab was higher than the ground. Not a problem we thought until nearly at the end of the meal when the whole thing collapsed with a crash, sending everything flying including the excellent bottle of red we had just opened. Fortunately for us the worst damage was the wine splattered up the side of the van from our glasses as luckily the top was on the bottle and we found it intact under the van, hurrah! The leg had once again come off and we both agreed not to use that bl**dy thing again!!
Of those campsites that allow pets they all insist they are kept on a lead. The day we left Forbes Neil was getting the camper ready to go when he was 'adopted' by a white dog that appeared from nowhere. It followed him everywhere and when Cheryl walked to open the gate for us to leave he followed her too. Then when we left and drove along the road he ran after us until we lost him. We called him White Dog as he reminded us of Red Dog from the North West of Australia made famous in a film…..watch it, it's very entertaining.
Next stop was Gunnedah but again a bad choice of campsite. It was still hot so asking for a shady pitch and wifi seemed too much for the grumpy bloke on reception. We settled on the pitch in full sun closest to reception as that was as far as the wifi would stretch. We then found the wifi was useless so moved ourselves to some shade which he said didn't exist. We then found there was a charge to use the BBQ – OK it was only 20 cents but there was a principle here. We were getting a bit fed up. Last trip the campsites were great but this time we were struggling to find good ones and particularly ones with decent wifi as we still had some planning to do.
Next stop was Armidale, the highest city in Australia at 980m. It was a lot cooler but unfortunately it was also raining. The campsite had wifi – hurrah, but it was useless – bo**ocks!! On the way to our next stop, Glen Innis, we stopped off to visit the grave of another local bush ranger, Captain Thunderbolt. He too supposedly didn't kill anyone but he came to a similar end to Ben Hall…..full of lead! We finally found a lovely campsite at Glen Innes and the manager did point out that local wifi was working but can be unreliable so we finally decided to buy data on a local sim card. Glen Innes has a Scottish heritage and hosts an annual Celtic Games in May with bagpipes and haggis. In 1992 the town built a circle of standing stones which is an impressive site and was to celebrate their Celtic heritage. Glen Innes is also known as 'The land of the Beardies' and we went to the excellent museum which housed an eclectic mix of old artefacts from the early settler days up until the late Twentieth Century.
A few days later we arrived in Caloundra. We had booked a 2 bedroom waterfront cabin to share with Chris & Viv. Neil worked with Chris is the UK back in the 70's before he emigrated with Viv in 1986. We had made an excellent choice - a new cabin which was well kitted out and we had a deck with a fabulous view across to Bribie Island and the sea beyond. We spent the weekend catching up over wine and great food and walks along the coast paths. We also took a drive out to see the Glass House Mountains with a quick stop on the way to sample some beer at a local brewery. We ordered a paddle to try a few and most of it was OK but beer with chilli, mmm, not so sure on that one. After a great weekend we set off on a 6hr drive south whilst Chris and Viv flew back to Sydney.
Diary Photos
---