ScouseLeeM on Tour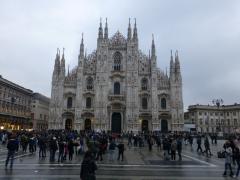 10th Mar 2018 - 11th Mar 2018
San Marino, Rimini, Milan
Making the most of some free hospitality in Milan, we spent 2 days being treated to copious amounts of pasta, meat, cheese and bread (also wine, wasted on me). I've been here twice before, but never taken any photos - so finally took the opportunity to take some snaps of the spectacular Duomo one evening, while we stuffed our faces with pizza in the cathedral square.
Crucially, I took an extra few days off to set off on a personal adventure, ticking a few more European stops off my travel list: San Marino and the Cinque Terre national park were my priorities - first a trek across the country to the independent principality and tax haven that is San Marino...
This was avery full day trip from Milan, which took me through Bologna and Rimini (stopping off for a walk through the town to see the ancient Roman sites of the Tiberius bridge and Augustus Arch).
Thankfully nowhere near peak holiday season, when large crowds can descend on the tiny principality of San Marino, and temperatures can be in the stcky 40s, this was an ideal time for me to complete my personal set of all 7 European principalities - Andorra, Lichtenstein, Luxembourg, Malta, Monaco, and Vatican City were already sitting in my dust. And San Marino was a worthwhile addition - the smallest of all, and realistically you could see all of the key tourist sights in just a few hours, but some spectacular scenery and panoramas.
Tourism here focuses on a specific area of San Marino, high up where the 3 very photogenic towers are placed. Long winding, traffic-free, narrow roads carry you though a myriad of tax free shops (a haven for visiting Russian tourists), and cafes simply begging visitors to load up on yet more carbs, meat and cheese. All very reasonably priced - after several hours hiking up to the 3 towers, and climbing their rooftops for spectacular scenic views, as well vists to teh armoury and torture museums, I finally succumbed to the charms of a restaurant with an open terrace looking out over the surrounding snowy mountains.
For 16 euros I feasted on a 3 course meal - in keeping with true Italian tradition, no lunch is ever light; the starter alone was a plate of meat pasta to fill any grown man. 2 courses later (plus aseemingly infinite amount of bread), I waddled slowly down through town, to begin the very long bus and train trek to Milan. and seek a few hours precious sleep, before another crazy trek cross - country, in the other direction...
Diary Photos
10th Mar 2018 Milan Duomo
Milan Duomo
---
10th Mar 2018 Milan Duomo
Milan Duomo
---
10th Mar 2018 Milan Duomo
Milan Duomo
---
11th Mar 2018 San Marino skyline
San Marino skyline
---
11th Mar 2018 San Marino - first tower
San Marino - first tower
---
11th Mar 2018 San Marino - second tower
San Marino - second tower
---
11th Mar 2018 San Marino - second tower
San Marino - second tower
---
11th Mar 2018 San Marino - second tower
San Marino - second tower
---
11th Mar 2018 San Marino - second tower
San Marino - second tower
---
11th Mar 2018 San Marino - second tower
San Marino - second tower
---
11th Mar 2018 San Marino - first tower
San Marino - first tower
---
11th Mar 2018 San Marino - first tower
San Marino - first tower
---
11th Mar 2018 San Marino - third tower
San Marino - third tower
---
11th Mar 2018 San Marino
San Marino
---
11th Mar 2018 Rimini - Arco d'Augusto
Rimini - Arco d'Augusto
---
11th Mar 2018 Rimini - ponte di Tiberio
Rimini - ponte di Tiberio
---