ScouseLeeM on Tour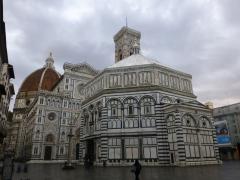 12th Mar 2018
Cinque Terre and Florence
After a ridiculously small amount of sleep, it was up before the lark to set off at 4am for Florence, en route to my date with destiny at the Cinque Terre national park.
In a state of near hullucination, and with an hour to spare in Florence, I manged to get myself to the iconic red -roofed Duomo, and grab a few snaps before any other buggar was out of bed, the area was practically empty. Then time to join a full day experience to Cinque Terre - the picture postcard national park of Italy, complete with spectacular coastal views, clifftop colourful towns and villages, and rough and ready hiking trails that will make you ache for weeks to come...
Stunning views abound here. A multinational group of us joined a local guide, to initially undertake a 6km hike up and down on slippy rocks and dirt trails while it conveniently decided to pour with rain - making conditions rather hazardous and a few slips and falls ensued (none for me). We started in Volastra, taking in numerous costal views above the town of Manarola on our way to Corniglia, where the sun suddenly decided to pop out.
A relatively light (by Itlain standards) lunch of a ham and cheese sandwich the size of my head, on a sun terrace overlooking the sea, provided welcome relief while we dried out. It was then time for a short hike (downhill thankfully) to the train line that runs through the various towns of Cinque Terre, and onward to Vernazza. Another colourful town, with spectaculat crashing waves in the bay, and a delightful gellateria that refreshed me greatly, before a length stop in Monterosso.
Now the sun was shining brightly - we took a pleasant leisurely stroll through the new and old towns, as well as panaoramic viewing spots overlooking the bay, before moving on to Riomaggiore - this is the place that everyobody goes for their 'postcard' photo of Cinque Terre, and doesn't disappoint. Would not enjoy being here in summer though, with all the local italian tourists, plus cruise ships sending a plethora of other toursist here, it would be far too crowded for my liking. This was ideal, with just a couple of groups around, and there was enough time to hit a local pizzeria for yet more carbs and cheese, before catching the train to La Spezia, then the epic voyage back to Milan.
Finally arriving back after midnight, it was a worthwhile but crazy long day. I finally collapsed for a first proper night of sleep in 3 days, with both of my hamstrings feeling like they were about to snap in 2 after our hiking extravaganza...
Diary Photos
12th Mar 2018 No Title
No Description
---
12th Mar 2018 Florence Duomo
Florence Duomo
---
12th Mar 2018 Cinque Terre - Manarola
Cinque Terre - Manarola
---
12th Mar 2018 Cinque Terre - Corniglia
Cinque Terre - Corniglia
---
12th Mar 2018 Corniglia descent
Corniglia descent
---
12th Mar 2018 Cinque Terre
Cinque Terre
---
12th Mar 2018 Vernazza
Vernazza
---
12th Mar 2018 Cinque Terre - Vernazza
Cinque Terre - Vernazza
---
12th Mar 2018 Vernazza
Vernazza
---
12th Mar 2018 Vernazza
Vernazza
---
12th Mar 2018 Vernazza
Vernazza
---
12th Mar 2018 Cinque Terre map
Cinque Terre map
---
12th Mar 2018 Monterosso
Monterosso
---
12th Mar 2018 Monterosso
Monterosso
---
12th Mar 2018 Monterosso
Monterosso
---
12th Mar 2018 Monterosso
Monterosso
---
12th Mar 2018 Monterosso
Monterosso
---
12th Mar 2018 Monterosso
Monterosso
---
12th Mar 2018 Riomaggiore
Riomaggiore
---
12th Mar 2018 Riomaggiore
Riomaggiore
---