New Zealand Adventure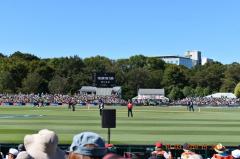 10th Mar 2018
Day 9 A day at the cricket.
This morning dawned bright and clear with a few fluffy white clouds as we prepared for our day at the Hagley Oval to watch NZ play England in the 5th and deciding one day International. Although not very patriotic we were pleased that NZ had won the 4th ODI to level the series, and to provide us with a game with the series win to play for.
Google said it was a six minute walk from our hotel to the ground but it was more like 15! We joined a long Q to get in and found a spot on the grass embankment in good time for the start of the game. NZ batted first but England's bowlers were soon on top and despite a late rally they ended up with 223 runs on the board. We had eaten our packed lunch before the interval so T headed off for the beers which we enjoyed before the start of the England innings.
The openers started well and had a 100 on the board in quick time, making a mockery of the slow pace of the NZ innings. In the end after the loss of 4 wickets England passed the NZ total with 17 overs to spare Ben Stokes hitting a big 6 to close the win. This was T's first experience of a major cricket match and she said she enjoyed it!
The ease of the win was a bit of an anti climax after our expectation of a close match but we headed home across the beautiful Hagley Park before heading out for a nice celebratory meal. Tomorrow we pick up our motorhome so need a good nights sleep!
Diary Photos
10th Mar 2018 Hagley Oval Christchurch
---
10th Mar 2018 After the ODI at Christchurch
---