New Zealand Adventure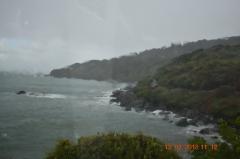 13th Mar 2018
Day 12 Journey to the southernmost point of NZ
Didn't mind leaving the Kiwi Invercargill campground as a little run down and with a derelict church behind it. Invercargill was nicer than we had originally thought the previous evening but had nothing to detain us from our mission to visit Bluff. This tiny town is world famous for its oysters and being the southernmost point in NZ. When we arrived it was tipping down and we nearly took a photo from the m/h and moved on. Then suddenly the rain stopped so we stood at the signpost. 18958 kilometres to London! We then went up to the 360 degree viewpoint and it lived up to its name and we could see smaller islands in the distance. However it was sooo windy it was impossible to stay up there very long.
Picked up some shopping in Bluff and then started our journey to Te Anau in Fiordland. Stayed on the Southern Scenic route for the whole journey. Ever changing scenery but always with lots of sheep in evidence. Also saw cows, llama, horses goats and deer but mainly sheep, sheep, shorn sheep, sheep. Scenery got more spectacular as we approached Fiordland.
Campsite much nicer than previous one and Te Anau is a well laid out clean town with mainly single storey buildings by the 2nd largest lake in NZ. Had an exciting chilli sin carne for supper but rather bland despite buying chilli powder the day before. Plenty left for another meal but restricted storage containers means it is stored in two beer glasses in the fridge!
We had booked a tour of Doubtful Sound the day before, after consulting the weather forecast so looking forward to a great day there tomorrow. Bernard very pleased as he has a day off from driving.
Diary Photos
13th Mar 2018 Bluff coastline
---
13th Mar 2018 Weather just like the UK
---
13th Mar 2018 Southernmost point in NZ
Southernmost point of N Z. Tierra del Fuego in South America is further south. Still about 4000 miles to the South Pole.
---
13th Mar 2018 Windy ridge!
---
13th Mar 2018 Bluff viewpoint
---
13th Mar 2018 Desolate coastline near Bluff
---
13th Mar 2018 Country road in Southland
---