New Zealand Adventure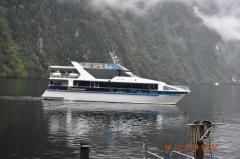 14th Mar 2018
Day 13 March 14th Incredible Doubtful Sound trip
It is not possible to get to Doubtful Sound by road. We were picked up from our camp site for a 30 minute coach trip to Lake Manapouri. We then boarded a boat for the hour long trip over the Lake to get to West Point. From here we had an hour's coach ride over the Willmott Pass which was the most expensive road to be built in NZ and is not connected to the National road system. It was quite dramatic as we went through the rainforest as we steadily climbed up the mountain And then a steady drive down the other side. Coach driver very droll with comments such as " Don't worry folks the brakes are regularly maintained on this coach - once a year and the next check is due tomorrow". Arrived at Doubtful Sound and boarded The Patea Explorer ship for a spectacular cruise along the Sound ( technically a Fjord but they decided not to rename it but to call the whole area Fiordland). We went right out to the Tasman Sea when things got a little choppy. Also ventured into some of the inlets and as well as the chance to drink glacial water from a small waterfall the captain also turned off the engines for a few minutes for The Sound of Silence. It was truly magical. The only downside to the trip was that we didn't see the seals and dolphins that we expected. Strangely there were also few birds. A great day out though.
Diary Photos
14th Mar 2018 Similar boat to ours on the Sound
No Description
---
14th Mar 2018 Blanket Bay Hotel in Doubtful Sound
---
14th Mar 2018 Doubtful Sound
No Description
---
14th Mar 2018 View of Doubtful Sound
Doubtful Sound.
---
14th Mar 2018 A grey picture featuring B
No Description
---
14th Mar 2018 Misty Doubtful Sound
No Description
---
14th Mar 2018 Map of Doubtful Sound on boat
No Description
---
14th Mar 2018 Glacial Valley
---