New Zealand Adventure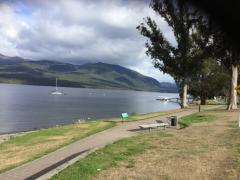 15th Mar 2018
Day 14 Continued on Scenic Southern Route to Queenstown
Had a trip around Te Anau and then left for Queenstown. Nice scenery all the way. Stopped at the head of Lake Wakatipu for lunch and then continued alongside the lake until we reached Queenstown. We have now completed the total Southern Scenic Route from Christchurch through Otago, Southland, and Fiordland to Queenstown.
Great excitement on reaching the campsite as today is Laundry Day. Spent a couple of hours shuttling between the m/h and the laundry. Missing one of Bernard's flight socks so great drama as I tried to track it down with the other laundry users. No luck but as I was later getting my clothes ready for the next day I found it stuck inside my tee shirt by static, so I was forgiven! Campsite is 4 kilometres out of town in a beautiful location near the Shotover Canyon where you can have a Jetboat ride. Looks a bit too scary for us! Sat outside and watched the sun go down over the mountains.
Diary Photos
15th Mar 2018 Lake Te Anau
Lake Te Anau is the second largest lake in NZ.
---
15th Mar 2018 Red Tussock grassland
---
15th Mar 2018 Verdant pasture
---
15th Mar 2018 Coffee break view
---
15th Mar 2018 Another busy NZ road!
Another busy NZ road!
---
15th Mar 2018 Driver's tea break
---
15th Mar 2018 Lake Wakipitu - beautiful blue colour
---