New Zealand Adventure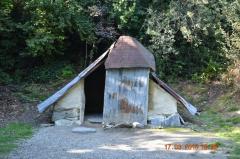 17th Mar 2018
Day 16 Queenstown to Lake Tekapo- stunning sky views
Left Queenstown and journeyed to Lake Hayes which is called the Mirror Lake because the mountains are reflected in the water. However we were disappointed because it was cloudy and the wrong time of day.
We continued to Arrowtown which was a gold mining centre in the mid 1800s. Visited the Chinese settlement where men had travelled alone leaving their families in China. They hoped to make 100- 200 dollars a year from gold panning ( average wage in NZ then was about 12 dollars per annum) and send most home to their families to save to buy a farm when they returned to China. In the meantime they lived in squalor in Arrowtown.
On leaving Arrowtown we took the Cardrona road which was very steep and twisty with lots of uphill hairpin bends with steep drops alongside. We journeyed on through usual spectacular scenery and empty roads and eventually arrived at Wanaka where we stopped for a cuppa overlooking a beautiful lake. After a pleasant stay we moved on to Lake Pukaki, after crossing the Lindis Pass, where you can get awesome views of Mount Cook against the backdrop of a beautiful blue lake. I sent Bernard on a wild goose chase to find the best viewpoint and we eventually found it on the main road that we had originally been on! Unfortunately the top of Mount Cook was shrouded in clouds so didn't get the full effect but still a beautiful sight.
Arrived at Lake Tekapo campsite and was told we had been given one of the best spots as we had booked early. It certainly was perfectly placed overlooking another beautiful lake.That evening at 21:15 we joined a Tour of Cowans Observatory ( part of Mount John observatory - part of University of Canterbury NZ). Absolutely brilliant. LakeTekapo is a world renowned Dark Sky area and you can see thousands more stars than you can usually see in a built up area, with the naked eye. It was an awesome sight added to by the enthusiastic guides who explained where Earth fitted into our own galaxy, the Milky Way, and other galaxy's. Looked through two telescopes that showed stars million of miles away. Quite mind boggling the information about planets, stars and galaxies that makes Earth seem really insignificant! Late night but well worth it.
Diary Photos
17th Mar 2018 Chinese gold diggers hut
No Description
---
17th Mar 2018 Another empty road with stunning view
No Description
---
17th Mar 2018 Climbing up Cardrona Road
No Description
---
17th Mar 2018 All this beauty starts to feel normal
---
17th Mar 2018 Cardrona Route
No Description
---
17th Mar 2018 A busy road
No Description
---
17th Mar 2018 Lindis Pass
No Description
---
17th Mar 2018 Mount Cook from Lake Pukaki
No Description
---
17th Mar 2018 A breed of sheep donated to NZ from Woburn Abbey
No Description
---
17th Mar 2018 Wide open spaces
No Description
---
17th Mar 2018 View from Lake Tekapo campsite
No Description
---