ScouseLeeM on Tour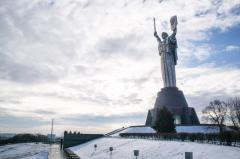 18th Mar 2018 - 20th Mar 2018
Kiev and (almost) Chernobyl
I'll keep this short and sweet, as that is exactly what this trip ended up being...
Original plans here went up in smoke - due to a snowstorm causing travel chaos, and delaying my arrival in Kiev by 18 hours...instead, I found myself 'enjoying' a free airport hotel with buffet dinner and breakfast in Frankfurt. Not totally unpleasant, but destroying my best laid plans.
Originally I should have been up with the lark and off to the rather unusual tourist destination of Chermobyl, to view the remnants and aftermath of the great 1986 nuclear disaster, including the iconic deserted ghost town of Pripyat. This is a heavily restricted area, and visits require advance registration and permits, only valid on the specific date pre-registered. As such, my chance to vsit during this trip was gone, and with no way to rearrange before leaving. Buggar...
Instead, I spent 2 days familiarizing myself with the (snowy) sights of beautiful Kiev. Maybe my favourite East European city to date, and possibly containing more gold - roofed buildings than the rest of Europe combined. This is a city that blends the ancient and the modern in all aspects of culture, arhitecture, and crucially, food. And very friendly locals (with excellent English lanaguage skills a plenty).
It also remains remarkably affordable,very pleasant hotels on offer for 25-40 quid per night, and a filling local meal available for 2-3 pounds. If, as I did, you want to treat yourself to something a bit more upmarket, a fine 2 course lunch and drink at a plush central steakhouse set me back all of 7 English pounds. As did another 2 course dinner in a traditional Ukranian restaurant in Taras Shevchenko park, after a long day and night of sightseeing - stuffing myself with a local concoction of pork, potato and cheese after a beef broth and mountain of bread.
Transport is insanely cheap - the amazing subway system (the deepest in the world, and decorated with extravagant mosaics and chandalier-like lighting), costs approx. 15 pence for a single ride anywhere across the city. The funicluar/cable car system was even cheaper, and made for a slightly less strenuous way up the very steep hill to St Michaels monastery.
Like many East European cities, churches, monasteries, and cathedrals are all over the place. Surprizingly, I didn't get bored of them here, and following a small group tour to get familar with the city, spent a full day and a half hiking miles in deep snow, to cover as much as possible. Independence Square is the central focus of the city, and the site of an all too recent 2014 massacre, snipers killing 70 or so protesters - incredible to see how peaceful and friendly everything seems now (although armed soldiers can be seen everywhere).
Despite not getting to Chernobyl this time, I did get to visit the official Chernobyl musem and audio tour, which gives a detailed account of the tragic events, as well as stories and memorabilia of those affected by the event, and those that gave their lives to save others. At some point, I will try to return as a stopover to visit Chernobyl, en route to one of the few remaining European countries I've yet to visit.
Let the East European tour continue - next, Romania and teeny tiny itsy bitsy Moldova...
Diary Photos
18th Mar 2018 Motherland Statue
Motherland Statue
---
18th Mar 2018 Independence Square
Independence Square
---
18th Mar 2018 Independence Square
Independence Square
---
18th Mar 2018 Independence Square
Independence Square
---
18th Mar 2018 Independence Square
Independence Square
---
18th Mar 2018 Kiev University
Kiev University
---
19th Mar 2018 Taras Schevchenko
Taras Schevchenko
---
19th Mar 2018 Kiev University
Kiev University
---
19th Mar 2018 St Volodomirs Cathedral
St Volodomirs Cathedral
---
19th Mar 2018 St Volodomirs Cathedral
St Volodomirs Cathedral
---
19th Mar 2018 Golden Gates
Golden Gates
---
19th Mar 2018 Kiev Underground
Kiev Underground
---
19th Mar 2018 Golden Gates
Golden Gates
---
19th Mar 2018 St Andrews Church
St Andrews Church
---
19th Mar 2018 Chernobyl heroes
Chernobyl heroes
---
19th Mar 2018 Pripyat ferris wheel
Pripyat ferris wheel
---
19th Mar 2018 Chernobyl
Chernobyl
---
19th Mar 2018 Pripyat - abandoned school
Pripyat - abandoned school
---
19th Mar 2018 Chernobyl - radiation
Chernobyl - radiation
---
19th Mar 2018 St Andrews church
Chernobyl - radiation
---
19th Mar 2018 Podil
Podil
---
19th Mar 2018 Kiev funicular
Kiev funicular
---
19th Mar 2018 St Sophia Cathedral
St Sophia Cathedral
---
19th Mar 2018 St Sophia Cathedral
St Sophia Cathedral
---
19th Mar 2018 Friendship Arch
Friendship Arch
---
19th Mar 2018 Kiev panorama
Kiev panorama
---
19th Mar 2018 Friendship Arch
Friendship Arch
---
19th Mar 2018 Botanic Gardens - snowed in
Botanic Gardens - snowed in
---
19th Mar 2018 Golden gates
Golden gates
---
19th Mar 2018 Err..statue of some bird...Kiev
Err..statue of some bird...Kiev
---
19th Mar 2018 St Michaels monastery
St Michaels monastery
---
19th Mar 2018 St Michaels monastery
St Michaels monastery
---
19th Mar 2018 Independence Square
Independence Square
---
19th Mar 2018 Motherland monument
Motherland monument
---
19th Mar 2018 Lavra
Lavra
---
19th Mar 2018 Holodomor memorial
Holodomor memorial
---
19th Mar 2018 Kiev coastal skyine
Kiev coastal skyine
---