New Zealand Adventure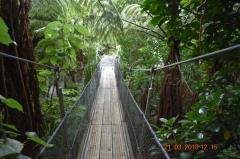 21st Mar 2018
Day 20 March 21st Sightseeing in capital Wellington
The Bay Plaza has a good harbour side view ( and a New World supermarket view that they do not mention in their advertising blurb!) but is a little dated. Woke up to a gloomy overcast day. We have been lucky with the weather so far and Wellington is well known for changeable weather so it may brighten up later. Sitting in bed with a cuppa deciding on our plan for the day as this is the First day we haven't had to set the alarm for a few days.
Went to the "one of the world's leading museums " in NZ - Te Papa. It is housed in a brilliant modern building right on the waterfront about 5 minutes walk from our hotel. Some of the exhibits at the museum were similar to what we had seen at the Quake Museum in Christchurch, and we felt the earth moving again with a different earthquake experience! There were many more aspects of earthquakes, extremely well presented.
We moved onto the Natural History section which was brilliantly laid out. We then ventured outside to the Bush City which cleverly displayed most aspects of NZ's landscape. After a lunch break we popped into the Gallipoli Experience to see if it was the same as the Christchurch one. It was far better with incredible models of soldiers that were about 20 feet long ( 2.4 scale). Very moving stories. Worth a look on the Te Papa website.
However we had to move on so caught a bus to the tram stop where we caught the funicular tram to the peak overlooking Wellington,which stops at the Peak in the Botanic Gardens. We wanted to go to the Space Place, which showed how the Big Bang happened amongst other things, but unfortunately it is closed on term time Wednesdays! So we had a leisurely stroll down through the Gardens which were lovely with all sorts of displays from rain forest to rose gardens.
When we got back down to harbour level we passed the Parliament Building and we were going to see the two cathedrals - St Paul's and old St Paul's. However we were flagging by now and seeing the new cathedral in the distance we decided not to go. It was almost as ugly as the one in Nelson. It is very commendable that they use local stone but they also need to inject some style or decoration! Caught the bus back to the hotel for a cuppa and a break. Watched The Chase on TV!!!
Later we strolled over the road and found a nice looking Thai restaurant. I remarked to B that we should perhaps have a Thai in Wellington as the smaller towns like Napier may not have them. When we got inside we found that the owner had started his business in Napier and he still has a restaurant there and a few other towns! Had a lovely meal. I had veggie fritters for starters and B had chicken satay. I then had veggie noodles and B had a red beef curry. Everything was really tasty and I wouldn't mind repeating the experience in Napier tomorrow!
Diary Photos
21st Mar 2018 Rope suspension bridge at Te Papa museum
No Description
---
21st Mar 2018 Bernard being a caveman
No Description
---
21st Mar 2018 Tram up from town centre to Botanic Gardens
No Description
---
21st Mar 2018 Another view from Botanic Gardens Wellington
No Description
---
21st Mar 2018 T on a trek through the rainforest
No Description
---
21st Mar 2018 B in the "New World energy sculpture
No Description
---
21st Mar 2018 T in the sculpture that gives you energy to continue
No Description
---
21st Mar 2018 Trisha feeding maize to the ducks
No Description
---
21st Mar 2018 View from Botanic Gardens
No Description
---
21st Mar 2018 NZ's Houses of Parliament
No Description
---
21st Mar 2018 New St Paul's Cathedral in the distance
No Description
---