Peter & Joan's Adventures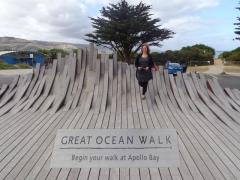 12th Mar 2018 - 25th Mar 2018 - Adventure before Dementia Tour
Small hiatus from our ongoing Hiatus
What is a break from a hiatus when already on a hiatus? A recess? I'm not sure but that is what we have done for the last week or so, due to bad weather and perhaps the repetition of being on the road for 9 months. Yes I know it's a 1st world problem but in short I did not write a blog last week as we had little to record or share. Not overly driven to write one this week but if I don't, this will become the norm and I will grow old and forgetful and not have a record of all the wonderful times and placed we visited.
So on Monday 12th March we hooked the van up and drove easterly along the Great Ocean Road from Worrnambool arriving at Apollo Bay just after lunch. Had a quick look around in the afternoon and decided we could easily spend a few days here. Tuesday we had a late start but visited a forest reserve called Maits Rest just west of Apollo Bay before venturing out to Cape Otway. On arriving at Cape Otway we realised we had been here before, back in November 2001, when visiting Equitana in Melbourne and friends Dean and Stathia in Geelong. We once again paid our entrance fee and climbed the steps of the lighthouse to view the rugged coastline. We ventured out again Thursday visiting the Great Otway National Park to view The Redwoods, Hopetoun Falls and Triplet Falls. We enjoyed a good feed of prawns from the Harbour Fish & Chips Shop, in Apollo Bay for lunch at Beech Forest.
Thursday we relocated to Geelong. It was a lovely drive but the wind picked up as soon as we set up camp at the Geelong Showgrounds. We had planned to go out for lunch Friday but Joan had a dental emergency so she ended up at the dentist instead. Saturday and Sunday remained windy so we did very little. Saturday we did manage to do lunch at Little Creatures Canteen, a boutique brewery just around the corner from the showgrounds. Sunday was also spend in the van so we snuck out for an evening meal at Lord Nelson Hotel to overcome the onset of cabin fever. Monday still windy so we stayed indoors again. We did manage to get out in the afternoon to do some grocery shopping and we both had haircuts. Tuesday wasn't very windy so we made an effort to get out and have a look around Geelong. We drove down to Point Lonsdale, miraculously arriving just in time to see the Spirit of Tasmania sail out of Port Phillip Bay thorough Victory Bight into Bass Strait. Joan could not believe our luck! From here we drove around the coast calling into Bells Beach for lunch. We sat on the headland watching contractors erecting stands and media platforms for the 2018 Rip Curl Pro, a surfing event, all happening next week. After lunch we visited the Memorial Arch in Lorne, commemorating the construction of the Great Ocean Road and the Victorians who served in WW1. On the homeward leg we also stopped off and had a walk around Split Point Lighthouse.
Wednesday was windy again and the highlight was another two-hour long lunch at the White Rabbit, another brewery incorporated in the Little Creatures complex. Thursday another quiet day before relocating camp to Shepparton on Friday. Saturday was overcast and raining. We did do some shopping and stocked up with specials and some goodies from the SPC Clearance warehouse. We also did some planning and organised our movements for Easter, next week. We had a couple of phone calls with Denis. Denis and Di are on the road heading from Bouldercombe to Walwa. Looking forward to catching up with the Bouldy crew after Easter as we all congregate in Walwa to celebrate Peter and Jody's wedding.
Sunday still raining and another day in the van. After lunch Joan went swimming at AquaMoves and I visited the library to access wifi to update apps, upload photos and complete this blog. Tomorrow we move closer to NSW heading for Lake Hume on the NSW/Victorian border near Albury/Wodonga before catching up with the Bouldy crew after Easter.
Diary Photos
| | | |
| --- | --- | --- |
| Joan, start of Great Ocean Road Walk, Apollo Bay | Otway Lighthouse, Cape Otway | Joan dewarfed by the giant redwoods, Great Otway National Park |
| Hopetoun Falls, Great Otway National Park | Triplet Falls, Great Otway NP | Siemens Boiler, old timber mill, Triplet Falls |
| We found Oscar hiding in the Forest, Triplet Falls, Great Otway NP | Peter, old sawmill, Triplet Falls, Great Otway NP | Little Creatures laneway, Geelong |
| Little Creatures, Geelong | Spirit of Tasmania entering Bass Strait | 2018 Rip Curl Pro, Bells Beach |
| Joan, Bells Beach | Peter, Great Ocean Road monument, Lorne | Eagle Rock, Split Point Lighthouse |
| Joan, Split Point Lighthouse, Aireys Inlet | White Rabbit Brewery, Little Creatures, Geelong | Joan & Peter, White Rabbit, Geelong |
| Barrel Hall, White Rabbit Brewery, Geelong | | |
---