sailingfastforward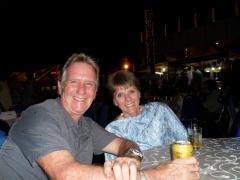 30th Oct 2009 - 11th Dec 2009
Malaysian Rally 2009
MALAYSIAN RALLY 2009
Danga Bay Marina, Johor Bahru TO Telaga Harbour Marina, Langkawi
Total Distance: 453nm
Duration: 30 October – 11 December 2009
Roughly about 70 yachts participating

DANGA BAY
30 October – 7 November
So far we've had a really good introduction to Malaysia and we really like it. The only thing that gets to me sometimes is the Muslim culture (it's disrespectful for "farang" women to expose shoulders and knees – and not just being able to have a glass of wine in a restaurant is really annoying, especially when you don't drink beer – and sneaking in booze, well that's just tacky, but necessary as I'm pushed to the limits here!) – but otherwise it's a great place and everyone speaks English!

The rally festivities were amazing! During the day we had the option of attending various presentations on Malaysia, and for 3 evenings (apart from the free beer!) we were given a buffet dinner, then entertained by dancers, jugglers and musicians. Not to mention the amazing fireworks show! All very impressive to say the least.

Singapore and Malacca Straights are known for being one of the most active lightning areas in the world – being at Danga Bay we sort of got the leftovers! Apparently 4 yachts were struck in a bad storm one afternoon just before we left!


MELAKA / MALACCA
GPS: N02.11.17 E102.14.43
8-12 November
The first rally stop was at Lumut, but since we had quite a while to get there everyone was on their own schedule. Since we weren't going to be physically travelling in the Malacca Strait channel with the ships, we'd be in the "slow lane" with the odd barge – we'd once again have the issue of "dodging fisherman and their nets" we'd decided that doing day trips would be best. Our first overnight stop was at Pisang Island (N01.31.72 E103.12.36), and the second at Besar (N01.58.95 E102.28.35) before reaching the historic city of Melaka/Malacca.

We were some of the first to use their new (albeit controversial) marina. Controversial in the sense that the government has pumped millions into building marinas up the west coast which are roughly "day sails" apart. Trouble is they did not seek advice from international experts, so a lot of the marinas are just inadequate in the sense that the cleats are ridiculously small and not properly bolted down, and the breakwater is a joke – instead of making a solid wall, they've made pylons which don't really break the surge from the west… making it very dangerous if a storm comes through. Siltation is also an issue, and apparently in 2 years time only catamarans would be able to get into that marina! So now they have to spend more on dredging!!

Its strategic position on Selat Melaka guaranteed Malacca an enviable prestige and prosperity, and by the 15th century the city had become the greatest trading port in Southeast Asia, attracting waves of conquering Europeans, each adding their own cultural overlay. Melacca's importance may have long since waned, but a rich medley of cultures remain: Chinese, Islamic, Indian, Portuguese, Dutch and English. The famous Jonker Street in Chinatown is a must see with it's eclectic mix of architecture and great vibe on a Friday, Saturday and Sunday night! We eventually found the shoe manufacturer who's father and grandfather crafted handmade shoes for "bound feet" (a practice that was stopped around 1910) – those poor women must've been in such pain! The shoes were unbelievable though!

12 November
We left bright and early as we had a lot of mileage to cover (77nm). The trouble with this coastline is that there are not many protected areas to tuck into for the night. Somehow the fishing nets also seemed to be getting longer and longer! The ship traffic really picked up as we neared Port Klang, and we decided not to head down the river as we did not have enough daylight – so we anchored with a few other boats just west of the main river mouth (N02.55.28 E101.15.73). Not 2 hours after we'd anchored a violent storm came through and we sat with crossed fingers and baited breath hoping that the lightning would move on along and stay away from all of us! At least the boat got a good wash and we were able to fill up our tanks!!

The trouble with this part of the world is that it's still pitch dark at 6am!! We had to get cracking as we had another marathon mileage day ahead us (96nm!!)… we shared the channel with a massive "MalaccaMax ship" 326 meters long – the crew looked like teeny tiny toys! Oh my goodness, it's a scary thought but I doubt they would even know if they ploughed over you!

The day was a gloomy and grey one, and we were lucky enough to get some power out of the light winds… we screamed into the anchorage at Palau Pangkor (N03.55.75 E100.38.86) just 2 hours before sunset! It's amazing what a bit wind can do! It was a gorgeous setting and once again held our breath as another lightning storm threatened!


LUMUT
GPS: N04.14.29 E100.38.46
14-18 November
Not the most exciting place in the world! …water was still brown- but littered with polystyrene, plastic bags and bottles – sadly the worst pollution we'd seen in a long time. The first rally dinner was nice – a great spread of food, and a good dance performance put on by a local dance troupe. The evening was put on by Massimo from Intel Marine. His hopes were to attract people to haul their boats at the University of Marine Engineering's slipway. We toured the premises and were impressed by all the machinery and equipment! Students would not be working on the boat – outside contactors would. A travel lift was on the cards for next year. We were to be the first boat hauled, we wanted a quick in and out re-antifouling job as ours was in bad shape. We'd applied Trilux 33 in April – and already we had fur coat! Unfortunately only hours before we were supposed to haul, he told us he was not able to get the antifouling we wanted. Oh well.

It was only Wednesday – we did not fancy staying 3 more days until the next rally dinner so we headed off to an anchorage about 10nm away at Palau Talang (N04.25.11 E100.34.82), but soon after arriving the cockpit was covered in flies!!! We've never seen so many! Thankfully we were only staying for the night!


GEORGETOWN, PALAU PENANG
GPS: N05.24.88 E100.20.68
19 November – 4 December
Once again we motored, arriving at the Tanjung City Marina about half an hour before sunset. There were already a few rally boats here, and the next scheduled event was on the 29th. Georgetown seemed like a nice spot and we were right in the thick of things again with busses on our doorstep… and I was kicking things off with a dental appointment the following morning.

In May I'd had a re-root canal and was given a temporary crown. In Darwin I was quoted $1800 AUD for a new crown – at a top of the line, all the bells and whistles dental surgery in Queensbay, Georgetown I paid less than $200 AUD. For the same thing!! I must admit it's a great looking porcelain on metal crown.

Penang is the oldest of the British Straits settlements in Malaysia – predating both Singapore and Malacca. Central Georgetown is a relatively compact city steeped in history, with slightly ragged, old-fashioned character that's now disappearing under the onslaught of highrises and neon-lit globalised modernity. It's full of tumble-down shophouses, impressive architecture and countless trishaws ferrying tourists and locals around a maze of streets and lanes. Ancient trades such as joss-stick making and fortune telling still go on in scenes which probably haven't changed in a century!

We'd also decided that this would be a great place to leave the boat and travel by bus to Kuala Lumpur. Woohoo… off on another overland adventure!


KUALA LUMPUR
22-24 November
Our departure was slightly delayed on Sunday morning by the annual marathon across the Penang Bridge (which FYI, at 13.5km is SE Asia's longest bridge). Our 5 hour bus ride to Malaysia's capital city was an absolute pleasure on the very swish NICE Plus bus. Palm oil plantations lined the highway and occasionally we caught a glimpse of a town of or bare mountainside. Damn that palm oil!

Our main mission in KL was to spend a day at the Kuala Gandah Elephant Sanctuary, to go up to the bridge at the Twin Towers, and perhaps if there was time, visit the craft complex. That's it – KL's just another big city.

I'd booked at the Equatorial Hotel which was located more in the business district – but suited us just fine as it was only 4 stops from the Towers and 5 stops to where we'd be meeting our guide Razali, "the elephant man" on Monday morning.

On Sunday afternoon we'd ambled over to KL's version of Sim Lim Square (electronic and digital shopping paradise); and then fought our way through crowds at the Beraja Times Square Mall – Malaysia's largest mall which houses over 1000 retail shops and 65 food outlets!! But that's not all – it also has its own theme park and roller coaster! Insane! Needless to say we could barely find our way out what with the west wing, east wing… more like confu-sing!!!

With just less than 2 hours of daylight left we headed off to see the Petronas Towers – we wanted to see them in the daylight and also just after sunset. As we emerged from the underground, we were just blown away by how utterly impressive they were "in the flesh"! You see them in photos – but I'm telling you, it's NOT the same. All that gleaming stainless steel is something to behold! We popped off to have some dinner at Nando's and by the time we returned they were all lit up… like two huge rockets. Absolutely beautiful. We were looking forward to going up to the bridge on Tuesday.


KUALA GANDAH ELEPHANT SANCTUARY
Just a week ago I had been on one of my favourite sites called www.tripadvisor.com where I'd discovered - and immediately contacted - "the elephant man" (jungletrekker69@gmail.com) http://www.myelephants.org – and within minutes my heart was going out to those gorgeous little orphaned ellies!!! He picked us up in KL on Monday morning and by the time we'd reached Pahang 1.5 hours later, we knew his entire history! What an interesting guy!!!

Razali has been a volunteer at the sanctuary for the last 15 years and has a vast knowledge of their behaviour, their injuries, and is involved in the rescue process, as well as the ins and outs of the sanctuary. He works very hard trying to organise sponsorships and "donations" for the resident elephants, the rescue program and the sanctuary to help it survive. It is Government funded, but it's the usual story – they don't have immediate funds to draw from for basic everyday things such as swivels, raincoats, VHF radios etc, which is incredibly frustrating particularly since they can't go out and "ask" for donations! Being a Government owned sanctuary there is also no entrance fee since the elephants are Malaysian the public have a right to see them for free. It's a very tricky and frustrating situation.

He had a unique style of getting one to understand elephants and the efforts to protect and conserve them. The movie at the information centre gave one a very good idea of how very difficult and dangerous it is to capture and transport wild elephants (with little resources!). Elephants are usually relocated when they are encroaching on and destroying plantations or population centres.

We got to help with some hands-on loving care and attention, weighing out crates of fruit for their lunch, unloading a truckload of sugarcane and stripping it down, preparing food for the 3 month old and a recently injured (but recovering) elephant. Behind the scenes we were able to bottle feed two of them which was amazing! Back in the "circus" as Razali calls it (the huge tourist enclosure) we queued up to hand feed them, a "bareback" ride was optional – bearing in mind you are sitting at the widest part - this was hilarious as you just about had to be able to do the splits… poor Ken was suffering with his short legs and he kept getting a cramp!

The sanctuary had around 18 elephants when we were there – and has been able to relocate over 400 elephants so far. The Asian elephant is a lot smaller than the African elephant, and the babies are just insanely cute… but those trunks: when you are holding the underside and blowing gently into their nostrils the skin feels as soft and tender as a babies, but they are unbelievably strong!!

We had a fabulously educational and exciting day – and took hundreds of great photos. Another "once in a lifetime" experience made extra special by our guide and host for the day, Razali. He has put this great site together and we strong urge anyone going (who would like to donate something) to visit the Sanctuary to check with him what they urgently need. http://www.myelephants.org/donation.html We bought loads of special milk powder for the babies. Every donation is greatly appreciated, no matter how great or small. Do what you can to help support the Asian elephants, they are just too amazing to become extinct.

We enjoyed dinner that evening at Razali's favourite local "corner café" restaurant…Located deep in the heart of one of KL's more Indian suburbs, never in our wildest dreams would we ever have found it! Here we discovered banana roti served with a curry sauce (so delicious I had 2, one as a starter and the other for my main meal!). The bill for the 3 of us came to a mere RM25!!! Gotta know where the locals go!!


PETRONAS TOWERS
Anchoring the huge Kuala Lumpur City Centre urban development park, convention centre and shopping centre are the iconic Petronas Towers. Opened in 1998, the 88 stainless steel clad twin towers rise up some 451.9m and are the headquarters of the national oil and gas company, Petronas, as well as housing several other companies.

The highest you can go is 170m above ground level to the 41st floor Skybridge which connects the towers. Free tickets are issued daily, but you need to start queuing around 7am as they only issue 800 tickets!! We got there at around 7:20am, got the 9:30 slot and were done by 10am!

They were the world's tallest towers until October 2003 when Taipei 101 in Taiwan took over with a height of 509m.

Here are some interesting facts about the Petronas Towers:
• combined the towers have 1 000 000m2 of floor space
• the Skybridge is 58.4m long and weighs
• the towers have 32 000 windows
• the building costs were US $ 1,2 billion
• they were designed to symbolise strength and grace using geometric principles typified in Islamic architecture
• each tower contains 80 000 m3 of concrete in strengths up to Grade 80, almost 11 000 tonnes of reinforcement, and 7500 tonnes of structural steel beams and trusses
• other components of the development include the Suria KLCC, a six-story, 93,000 square feet shopping centre


GEORGETOWN
The rally festivities were on the 29th and 30th. The sail past was a bit of a disaster in that many boats were way ahead of schedule because of the situation in Lumut (2 functions separated by 4/5 days, people did not want to wait around as there was nothing to do in Lumut). The plan was that we were all supposed to anchor off Palau Jerejak and do a "sail past" under the Penang Bridge, unfortunately only about 20 boats participated in this event. The bus tour was okay – we were taken to a new wing of one of the fancy private hospitals, 2 housing developments (!!), the Pen-Marine boatyard, and were then entertained at the one of the property developers' headquarters (on the "balcony" on 16th floor – great views and a nice breeze!). It was a fun day and once again "thank you" to Sail Malaysia!

We ate where the locals ate and enjoyed delicious curries for RM8 at Kapitans. We also tried a Chinese place, but soone discovered that their chicken curries were not boneless (a real nuisance to eat with chopsticks!!) – we also joked about their menu which offered meals such as shark fin soup, sea cucumber, eel, fish eyes, pig ears and goat brain. Call me fussy, but I think I'd rather starve.

Banana Travel also sorted out Thai visas for a mere RM5!! What a deal! It would cost more to get to the embassy by bus!! We did the usual tourist thing and walked the Heritage Trail (in that heat… what were we thinking!). We also made good use of the free touristy CAT bus. We saw too many beautiful temples to mention, but the most fascinating are the Chinese temples, I wish we'd had a local to take us around and explain it all!

Georgetown also turned out to be a very good stopover because we were able to get much needed medical checkups done at the local Adventist Hospital. We were gobsmacked at the medical facilities available to everyone here – for almost a pittance! We could walk in off the street and see specialists without a referral! This would certainly not be the case if we were in South Africa, England or the States. Best of all is that all the specialists, laboratories, radiologists etc are all housed under one roof. I had an MRI on my neck and it cost the equivalent of ZAR1500 (if I was at home I would have paid in excess of ZAR8000!). The gynaecologist was the best one I'd ever seen. Ken also had the whole bang shoot including an angiogram - in less than a week! I'm still in awe! Thankfully we were both doing just fine. It pays you to fly to Malaysia to have your health issues sorted out.


LANGKAWI
5 – 14 December
Having received the "all clear" we left Georgetown at 5:20am on Friday the 4th on a favourable tide… and actually managed to sail the whole 59nm to Langkawi, yes that four letter word had finally made an appearance again!

Just after lunch we anchored in an area called "the fiords" and after being in marina after marina, it was the most beautifully serene setting. High rocky limestone islands covered with dense bush-like vegetation that was home to a variety of monkeys and other creatures.

Langkawi is Malaysia's best-known holiday destination. It's made up of 99 islands which are easily accessible from mainland Malaysia as well as from Thailand. Only the main island as any real settlement and it's fringed with sandy white beaches, an interior of jungle clad hills and don't forget the picturesque paddy fields. The islands offer plenty of protected and gorgeous anchorages, although the water was still a disappointing greenish-brown and there were lots of jellyfish around. The whole setting reminded me very much of McCarr's Creek off Pittwater, Sydney.

After 3 days of blissful peace in the fiords we headed to the smallish town of Kuah. Bass Harbour is guarded by a monstrously huge eagle statue… you see them constantly soaring overhead wherever you are on the island! Langkawi combines the old Malay words "helang" (eagle) and "kawi" (strong). The majority of people in Langkawi are Muslim. The town was reather disappointing after coming from Georgetown (not to mention Singapore!). The huge Langkawi Mall was clean and airconditioned and housed the only supermarket on the island.

Since Langkawi was declared a duty free zone in 1986, the island has received yet more visitors, many intent solely on carting off cheap booze! Considering that only spirits, beer, cigarettes and chocolate are duty free – you can't really blame them can you! We paid RM30 for 1 L of Gordon's Gin, RM24 for a slab of Skol beer, RM45 for 5L of Drostdy Hof cask wine… generally the bottled wine is not as cheap as you'd expect – but if you look around you can find something decent for a fair price. We also stopped by Lucky Frozen (hotel/restaurant supplier) and placed our order for very cheap Australian filet (RM48 p/kg) and rib-eye (RM40 p/kg) as well as 2 New Zealand lamb racks at RM33 p/kg. We were very impressed!

8-13 December
After taking on very cheap diesel at the small blue "fuel ship" anchored in Bass Harbour, we headed to Telaga Harbour Marina as were keen to collect our packages from the office. The most important package contained a new Raymarine ST60 system that our friends Deborah and John (Bella Donna) had just mailed us from California. Ours was 18 years old and was tired! The wind instrument packed up 2 days out of Australia so we were keen to have it all working again. The anchorage (outside of their man-made anchorage) was fantastic and for once we had a good breeze.

The final rally function was held at a resort 2 kms away from Telaga and boy did they put on a feast for us! The food was incredible to say the least… and the entertainment was just as good! All in all we are happy that we did the Malaysian Rally – we were treated like royalty and would have missed out on such a lot had we done it on our own. Hats off to you Sazli and the beautiful Hardeep!


** GPS position to be used as guide only – this area is strictly eye-ball navigation!!
Diary Photos
30th Oct 2009 Danga Bay rally festivities - it started raining so I pulled tablecloth up
---
30th Oct 2009 Danga Bay rally festivities - rain got worse, Sarah gave us each a plastic bag
---
30th Oct 2009 Danga Bay rally festivities - David & Juliet loved the tablecloth idea too!
---
30th Oct 2009 Danga Bay rally festivities - gorgeous Malay girls
---
30th Oct 2009 Danga Bay rally festivities
---
30th Oct 2009 Danga Bay rally festivities - love this pic!
---
1st Nov 2009 Danga Bay rally festivities
---
1st Nov 2009 Danga Bay rally festivities - she is such a cutie!
---
1st Nov 2009 Danga Bay rally festivities
---
6th Nov 2009 Leaving Danga Bay
---
6th Nov 2009 Leaving Danga Bay - look at the size of it!
---
10th Nov 2009 Melaka - Maritime Museum!
---
10th Nov 2009 Melaka - some gorgeous architecture to be seen
---
10th Nov 2009 Melaka - our cute little bikes parked between the big boys!
---
10th Nov 2009 Melaka - his grandfather made these shoes (for bound feet)
---
10th Nov 2009 Melaka - part of temple rooftop
---
10th Nov 2009 Melaka - shadow puppet maker we found in a backstreet
---
10th Nov 2009 Melaka - love this trishaw!!!
---
10th Nov 2009 Melaka - a typical street
---
17th Nov 2009 Lumut - Marine Engineering University workshop
---
17th Nov 2009 Lumut - Marine Engineering University workshop - Ken in awe of all the aluminium sheeting!
---
17th Nov 2009 Lumut - Marine Engineering University workshop
---
17th Nov 2009 Lumut - turtle sanctuary
---
17th Nov 2009 Lumut - turtle sanctuary - I hated this place!!!! They've only a tiny pool to swim around in!!!!
---
17th Nov 2009 Lumut - turtle sanctuary - not impressed at all, think it's very cruel.
---
17th Nov 2009 Lumut - turtle sanctuary - these beautiful turtles were in a tiny pool not even 3m x 3m!! what for?
---
19th Nov 2009 Fishermen en route to Palau Penang
---
22nd Nov 2009 Kuala Lumpur Petronas Towers
---
22nd Nov 2009 Kuala Lumpur Petronas Towers
---
22nd Nov 2009 Kuala Lumpur more Petronas Towers
---
22nd Nov 2009 Kuala Lumpur shopping mall attached to Petronas Towers
---
22nd Nov 2009 Kuala Lumpur Petronas Towers at night
---
22nd Nov 2009 Kuala Lumpur Petronas Towers - love this shot
---
23rd Nov 2009 KGES - she just loves sucking Razali's thumb!
---
23rd Nov 2009 KGES - Ken giving one of the elephants some fruit
---
23rd Nov 2009 KGES - the dancing elephants, they just constantly swaying from side to side!
---
23rd Nov 2009 KGES - give me more fruit, or I'll take the camera!
---
23rd Nov 2009 KGES - off on our little trip
---
23rd Nov 2009 KGES - I could not stop laughing at Ken and his sore legs!
---
23rd Nov 2009 KGES - open wide... their tongues are incredibly soft!!!
---
23rd Nov 2009 KGES - hey you! more fruit please!
---
---
23rd Nov 2009 KGES - she lost her foot in a snare, very tragic as it's extremely painful
They are raising funds for a prosthetic foot...
---
23rd Nov 2009 KGES - now for the proper food
---
23rd Nov 2009 KGES - bottlefeeding time
---
23rd Nov 2009 KGES - bottlefeeding...
---
23rd Nov 2009 Kuala Lumpur - from the roof of Razali's apartment block
---
23rd Nov 2009 Kuala Lumpur - from the roof of Razali's apartment block
---
23rd Nov 2009 Kuala Lumpur - dinner with Razali at Restaurant Vargina (yes, that's the name!)
---
24th Nov 2009 Kuala Lumpur - Skybridge at Petronas Towers
---
24th Nov 2009 Kuala Lumpur - view from Skybridge
---
24th Nov 2009 Kuala Lumpur - fancy lights inside lobby
---
24th Nov 2009 Kuala Lumpur - love these flowers
---
24th Nov 2009 Kuala Lumpur Craft Complex
---
24th Nov 2009 Kuala Lumpur - sidewalk cafe
---
27th Nov 2009 KGES - she was just gorgeous!
---
27th Nov 2009 KGES - love her to bits!
---
27th Nov 2009 Kuala Lumpur - view from Skybridge
---
27th Nov 2009 Kuala Lumpur - this is coffee.
Malaysian coffee works like this: you can have it white and sweet, or black - not black and sweet - cause that white is condensed milk!!!!
---
27th Nov 2009 Georgetown - treats at the night "food market"
---
28th Nov 2009 Georgetown - nice old building on heritage trail
---
28th Nov 2009 Georgetown - same building (taken through a gate!!) - love the detail
---
28th Nov 2009 Georgetown - Chinese temple
---
28th Nov 2009 Georgetown - Chinese temple
---
28th Nov 2009 Georgetown - great little Indian restaurant - very quirky decor!
---
28th Nov 2009 Georgetown - stuck in a timewarp
---
28th Nov 2009 Georgetown - huge Mosque in town
---
28th Nov 2009 Georgetown - not sure why they do this, but it's beautiful
---
28th Nov 2009 Georgetown - Little India
---
29th Nov 2009 Georgetown - trishaw man - what a picture!!
---
29th Nov 2009 Georgetown - had to zoom in of course!
---
29th Nov 2009 Georgetown - fancy roof - look at all the detail
---
29th Nov 2009 Georgetown - Chinese pharmacy
---
29th Nov 2009 Georgetown - more temple decorations
---
29th Nov 2009 Georgetown - fantastic Buddah in Little India
---
29th Nov 2009 Georgetown - I'll just wash these dishes in the street...
---
3rd Dec 2009 Georgetown - Tanjung City Marina (we're right on the end)
---
5th Dec 2009 Langkawi - anchored in "the fiords"
---