On On Home around Australia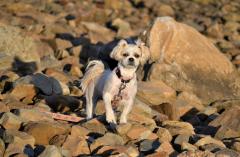 12th Apr 2018 - 1st May 2018
Week 458 - St Kilda
With Robinvale/Euston done and dusted, we headed west towards the Ramon Deeds Veteran's Retreat near Mildura. A bush camp for current and ex servicemen and women and their families. (Jo is ex-Navy). The Retreat had power, water and a mess room. The fellow travellers and campers were very friendly. We will now add these Veteran Retreats which are all over Australia, to our list of campsites.
Next stop Plush's Bend on the River Murray, near Renmark, South Australia. A haven for the bird life. Typical Murray views and very relaxing. Rusti loved swimming in the Murray and on one occasion she had to be rescued as she had swum too far out chasing a ball in the easterly current. Sunny days and exploring were the menu for the days and on one occasion we came across the Woolshed Brewery north of Renmark. A pub with a selection of great beers and a balcony with views across the Murray. A fantastic Autumn day with summerlike weather and as you can see Rusti enjoyed the pint.
Our journey continued to Greenoch with a catch up visit with Ken and Sylvia from Tanunda.
We pressed onto St Kilda where we ran into some fellow Highway Wanderers camped in the southern end of the car park overlooking the Gulf St Vincent. Lovely people, great happy hours and camaraderie.
On the Friday night we were hit by a storm that lasted just 10 minutes, just enough time to destroy our awning and throw it over the top of the roof. A fellow traveller, Rod, who was helping me, was also catapulted into the air, landing on his head, suffering concussion. He ended up in hospital with half a dozen staples and a severe loss of memory. To be honest, I was more worried about my helper than my awning.
Ken Tame and Associates have covered the damage to the awning and we have now been waiting 8 days for a replacement awning. Thankfully the weather is glorious and our car park position gives us 180 degree views of the ocean.
We have done the normal sightseeing tours of Port Adelaide, Semaphore and Parafield Fighter Museum.
This month we have caught up with many Highway Wanderers - Maxine and Rob; John and Deb; Rod and Lesley; John and Kay also a couple of great hashers from way back, Boner and Love Muscle.
Monthly blogging doesn't seem to have the same charisma as our weekly rants, therefore, we will see give you another burst next week.
On on Horror and Wanger
Diary Photos
14th Apr 2018 Rocky Rusti
The youngster explores
---
15th Apr 2018 Distorted reflections
This hundred year old bridge, situated at Paringa, South Australia, allows just a couple of inches either side to get across.
---
15th Apr 2018 The Dark Side of the Moon
Not much light for this photograph
---
17th Apr 2018 Woodshed Brewery, near Renmark
Rusti enjoys River Time Session Ale
---
18th Apr 2018 Our first night at St Kilda, South Australia
The sun makes way for the moon.
---
20th Apr 2018 Horror takes the air
Parafield Fighter Museum
---
22nd Apr 2018 Swinging Jo
St Kilda has the best children's park for young and old.
---
22nd Apr 2018 The St Kilda camp
Sea views, river frontage and a pub to boot.
---
24th Apr 2018 See no evil, hear no evil, do no evil
Rusti and her mates.
---