sailingfastforward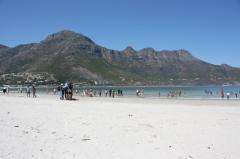 24th Feb 2010 - 6th Apr 2010
5 Weeks in beautiful CAPE TOWN...
CAPE TOWN - (by silver bird)
24 FEBRUARY 2010

With the boat safely tucked away on the hard at Rebak Marina, we set off on 24 February on our much-anticipated holiday to Cape Town, South Africa – it had been 2 years and 2 months since our last visit and I was literally chomping at the bit to get back and spend some time with my Mother… and whose 60th birthday just so happened to a mere 2 weeks away!! Our flights on Emirates were fantastic and we made full use of their 30kg allowance (each) in economy class by lugging most of our treasures back that were purchased all over the world.
Hout Bay is still absolutely beautiful, and the weather was simply fantastic… we enjoyed heat wave after heat wave which was very uncharacteristic for March, but the weather is strange in most places around the globe. Daily temps were on average 25C. Although as soon as the wind blew, you could feel that wintry chill!

I treated myself to an 8 week online photography course which started I in Cape Town and finished back in Langkawi. Looking back – it's probably the best money I have ever spent and I still can't believe just how much I learnt!

Ken's son Russel and his girlfriend Alena popped over from Sydney, so our timing was just perfect! Alena had never been to South Africa before and she absolutely loved it! It's such a treat seeing your country through new eyes.

It was great seeing all our friends again, but within a day or so we found that we'd slotted right back in, and by the third day it was as though we'd never left!!

Meeting up with Kenwyn and Johan was good fun, they're our old cruising friends who have sadly retired from the cruising life due to health reasons. Tory and Piet Hein had also recently returned home from their circumnavigation, and we also met up with Roger and Jeni from Durbs – who flew to Cape Town for a weekend. We had a braai at our house, and it was a real yachtie event!

We were also witness to the famous Argus bicycle race, as well as the Two Oceans Marathon. Living in Hout Bay is great if you're a sports fan as both races come through the village.

My Mom's 60th was held at Moyo (Stellenbosch) – it's a unique destination for a sophisticated African experience. Russel and Alena also joined us and she loved it! The food was amazing, and as for the entertainment – well it just made the hair stand up on the back of my neck – Africans have such rhythm, and the African beat just gets right down into your soul. I love it! My Mom was called up on stage to do a dance with one of the girls… and she did very well!!! Then we all sang to her… she said it was her best birthday ever… it was very cool being there with her.
Soon all eyes will be on South Africa and the Soccer World Cup… the new stadium in Cape Town is awesome and fingers crossed that all goes well.
It was sad leaving – but whether you're there for a week or 3 months it always is isn't it.... I'm crossing my fingers that my Mom and Walter will be able to come and enjoy a holiday on Fast Forward in the not too distant future.... how cool would that be!
Diary Photos
7th Mar 2010 Hout Bay beach...
---
---
11th Mar 2010 Hout Bay harbour
---
12th Mar 2010 Hout Bay's famous seals
---
12th Mar 2010 This was a big boy...
---
14th Mar 2010 Argus cycle race
---
15th Mar 2010 Hout Bay from the end of Chapmans Peak Drive
---
15th Mar 2010 Llandudno... great for surfing
---
18th Mar 2010 Constantia wine farm
---
18th Mar 2010 Squirrel at Constantia wine farm
---
19th Mar 2010 Moyo.... they were just awesome!!
---
19th Mar 2010 Moyo - beautiful birthday girl and Walter
---
19th Mar 2010 Moyo... mother and daughter!
---
19th Mar 2010 Moyo - Ken and Audrey
---
19th Mar 2010 Moyo - Ken and I
---
19th Mar 2010 Moyo - Rus and Alena
---
19th Mar 2010 Moyo - birthday girl hitting centre stage!
---
19th Mar 2010 Moyo Stellenbosch... private tree house
---
19th Mar 2010 Moyo... great entertainment
---
19th Mar 2010 Our beautiful bay...
---
19th Mar 2010 Endless Noordhoek Beach
---
19th Mar 2010 Muizenberg's famous beach huts
---
26th Mar 2010 Sunset in Hout Bay
---
27th Mar 2010 Cape Malay fruit and veg seller at The Biscuit Mill
---
6th Apr 2010 Hout Bay harbour- Muriel's Munchies... my mom's business that she runs with Walter and 3 great staff
---
6th Apr 2010 My beautiful mother!
---
6th Apr 2010 Profile updated 2010
---
6th Apr 2010 View from my mother and Walter's home in Hout Bay
---
6th Apr 2010 Ken accidentally locked keys in car as we were leaving for the airport!!!!!
---