ScouseLeeM on Tour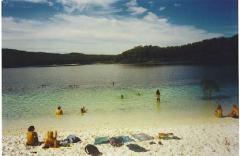 23rd Mar 1999 - 30th Mar 1999
Hervey Bay/Frasier Island
Had heard good reports about the 4 wheel drive camping trips on Frasier Island, which required stopping on the mainland in Hervey Bay. Went to the 'Beaches' hostel and signed up for a trip leaving the next day, assigned to a mixed group of English and German backpackers, - not typical Germans in that they seemed to have a sense of humor. Also met a scouse bird who had a very odd job, the boss had agreed to give her a secretarial role on condition that she worked in the nude...which she was absolutely fine with.

Day 1 of the adventure began with a trip to the supermarket, to stock up on supplies for camping. 90% of the shopping was made up of raw meat (and beer for the rest of the happy troupe). After a briefing we took our 4WD onto the ferry, and were taken to the island, then left to our own devices until the following evening when we had to be back at the ferry to depart. With map in hand, we proceeded to spend 2 days exploring - swimming in natural lakes & springs, visiting shipwrecks, watching tiger sharks from clifftop viewing points, and cooking at least 4 whole cows and pigs on our camp fire...

At the end of day one, we had to race along a beach on one side of the island at sunset before the tide came in and left us stranded without a place to camp. Then spent 2 hours in the pitch black searching for a campsite with an available space, and watched a family of dingos trying to steal our food while we finally pitched our tents.

On our way to the ferry, all was going well until we suffered a flat tyre, and had to stop on the dirt track holding up about 200 vehicles behind us. After a long time getting very dirty indeed , we finally raced off and made the ferry with minutes to spare...a slight shame that several vehicles didn't get on because they had been stuck behind us, and the next ferry wasn't for 24 hours - sorry!
Diary Photos
23rd Mar 1999 Frasier Island
---
23rd Mar 1999 Shipwreck, Frasier Island
---
23rd Mar 1999 Dingoes, Frasier Island
---
23rd Mar 1999 Sunset, my abode on Frasier
---
23rd Mar 1999 The Frasier 4wd posse
---
---