ScouseLeeM on Tour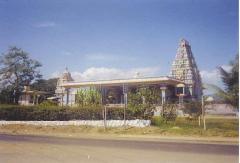 17th Apr 1999 - 30th Apr 1999
Fiji - Naadi/Beachcomber Island
Flew into Fiji unsure of what to expect, picked up by a mini bus to take me to a hostel and headed off through the wilderness en route to Naadi - only to pass a McDonalds 5 minutes later! (which I returned to that evening for some traditional Fiji grub).

The standard of accommodation was not quite up to that I had seen in Australia - managed to get ravished by mosquitoes, both legs covered in red lumps within 2 days. Very friendly though, and (as usual) loads of British backpackers around. Had planned to get a boat out to a desert island for a week, on arrival found 2 girls who had just spent the same year in Oz and were booked to go to the same island, plus spookily were booked on the same flight out from Fiji to Los Angeles later...

Travelled out a few hours from the coast to Beachcomber Island in highly choppy seas, packed into the worlds smallest fishing boat. Several people were being ill over the back of the boat, thankfully I seem to have a cast iron stomache for this kind of thing. What followed was a week of bliss - staying in little beach huts with no modern conveniences, a group of locals cooking all our meals, and spending each day hiking to the beach on the far side of the island, snorkelling with reef sharks. We stopped in 'Mamma's kitchen' each afternoon - a giant hut in the middle of the island where a local woman would cook batches of chocolate cake and homemade ice cream, every backpacker on the island would turn up like clockwork at 1pm.
We were also taken snorkelling to the adjacent island, where the film 'The Blue Lagoon' was shot. Great chance to use the underwater camera, fish were everywhere as soon as we stepped into the water, a very idyllic unspoilt spot.

A week of chilling was then followed up by another terrifying boat ride back to the mainland. 5 of us travelled together, and got tickets for the World cup rugby qualifying game between Fiji and Canada. Fiji won, and we joined in the celebrations at a local nightclub, where we could not recognise or dance to any of the music.
Before leaving Fiji, we decided to experience a little bit of luxury, heading to the Sheraton resort in Naadi to pretend we were guests and use their beach for the day. Then a day of scuba diving out in the Pacific Ocean, which was not one to forget!

Unlike Oz, the health and safety restrictions on diving in Fiji seem somewhat 'lax'...after 12 of us crammed onto a boat built for 6, we headed off into the middle of the ocean, no land in sight. The group consisted of a mix of qualified divers, learners, and those who had never dived before. In very choppy seas, we were all told to jump out of the boat, and follow a rope down to the ocean floor. Unfortunately with just 1 instructor between 12 of us, several people bottled it, had panic attacks, and had to go back to the surface. Meanwhile, down below was total chaos, with people heading in various directions and unidentified species of sharks circling...
I had fun with a very friendly and beautiful leopard shark that came over and wrapped around me like a purring cat, then it was a boat ride back through the choppiest seas I've ever seen and time to pack for yet another country - the good ol' burger munching US of A...
Diary Photos
---
19th Apr 1999 Fiji v Canada, rugby WC qualifying
---
19th Apr 1999 Leopard shark, Fiji
---
20th Apr 1999 ..just give me a box of milk tray...
---
20th Apr 1999 Fiji diving, rocky seas and a very small boat!
---
20th Apr 1999 Diving in Fiji
---
20th Apr 1999 Stingray, Fiji
---
20th Apr 1999 Diving in Fiji
---
21st Apr 1999 The Fiji backpacking posse
---
21st Apr 1999 Nightclubbing Fiji style
---
21st Apr 1999 Me and Davinia go sailing
---
28th Apr 1999 My island hut!
---
28th Apr 1999 Dinner is served, Fiji style
---