ScouseLeeM on Tour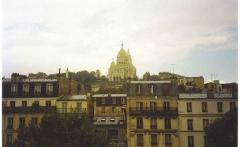 1st Jun 1998
Paris/Marseille
Before embarking on my year in the Southern hemisphere, started a little closer to home...

Off with Gazza and Nick to the greatest sports event on Earth, the footy World Cup in France. Made our way by various combinations of planes, trains, and ferries to France, myself and Gazza catching a ferry from Dover then trains from Calais to Paris to Marseille, quite a bloody long trek all in all (especially as my journey began in Liverpool).

Upon arrival in the venue of England's first game, checked in to our very classy one star hotel - shared bathrooms, no TV, no bar, no food. Myself and Gazza went to meet Nick at the station and that's when the fun began!

We found the station was surrounded by riot police following earlier trouble. After starting our walk home, a gang of local Arab thugs started causing trouble and one proceeded to kick Nick around the head, so a nice traditional friendly welcome...upon reaching the hotel we found tear gas cannisters going off in the streets, and sirens everywhere - so decided to stay in for the night. Next day, we had a police escort to the stadium, and from our seats we could see fighting going on outside the stadium, also heard that at the supposedly safe Radio 1 venue on the beach (just for England fans), there had been fighting and stabbings.

Decided to cut short our pleasant jape to the South of France, and paid to get a first class seat on the first train to Paris. Then, all the way back to Liverpool, to pack, before back to London to fly to the other side of the world!
Diary Photos
1st Jun 1998 Sacre-coeur from a Paris window
Sacre-coeur from a Paris window
---
1st Jun 1998 Footy in France
---