ScouseLeeM on Tour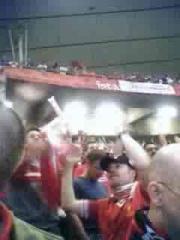 25th May 2005 - 26th May 2005




Istanbul



....no sightseeing of note. Pure partying and all night celebrations following 'the greatest comeback in football history' as described by the English papers....and I was there!

Almost a total calamity, our flight from Stanstead was due to take off at 7am, get to Istanbul at noon then take us to relax in our hotel befor going to the game at 5pm. What happened is that we sat on the plane while receiving endless messages about delays, finally taking off 4 hours late and arriving in Istanbul at 4pm. Coach took us straight to the stadium, leaving our baggage on board and spent several hours in the 'fans zone', taken up entirely by queueing for food, while listening to some poor quality live music...

Into the stadium for a rousing chorus of You'll Never Walk alone, before the drama unfolded. Following truly bizarre team selection, Liverpool were 1 nil down inside a minute, and 3 nil down by half time, a rather depressing atmoshphere, particularly after spending 375 quid on a ticket! The second half would go down in footy folklore as the 'miracle of Istanbul' as we scored 3 goals in 6 minutes to send the game into extra time.After a miraculous double save by Jerzy Dudek in the last minute of extra time, Liverpool won the penalty shootout to win the 50th European Cup final, our 5th title, and so entitling us to keep the trophy forever.

Good atmosphere after the game, somehow got a free upgrade to a 5 star hotel and spent many hours in the 24 hour bar eating and drinking with a dozen other fans on the same trip, before catching a few hours sleep.

Next day proved equally as enjoyable, as we checked in at the airport in the line next to the AC Milan team (loooosers!), then met the Liverpool team in the departure lounge with the European Cup! Really regret not taking a camera, but took some very poor qualitry snaps of my trip using my mobile phone, so have loaded some of the clearer ones here...next, time to fly home, pack, and leave immediately for 2 England football friendlies/sightseeing in Chicago and New York…normal relaxing lifestyle. Oh, now Liverpool have qualified for the World Championship in Tokyo in December, so that will be another stop for my map!



Diary Photos
25th May 2005 Happy boys, champions of Europe
---
25th May 2005 I was there!
---
25th May 2005 About to get the cup...
---
25th May 2005 Parading the cup
---
25th May 2005 The Holy Land
---
25th May 2005 The European Cup - ours forever
---
25th May 2005 Five times!
---
25th May 2005 Me with the Euro Cup
---
25th May 2005 Me and Nick with Euro Cup
---
25th May 2005 4 more Euro cups
---
25th May 2005 Message for Everton fans
---
25th May 2005 ..and a UEFA cup for good measure
---
---
25th May 2005 Champions!!!!!
---
25th May 2005 Istanbul Olympic Stadium
---
25th May 2005 The European Cup close up!!!
---