ScouseLeeM on Tour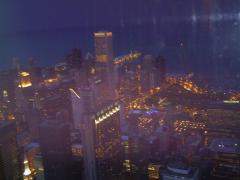 27th May 2005 - 29th May 2005
Chicago
about the 10th time I've been through Chicago, first time I've actually stopped and done some sightseeing!

Went with Nick for the England friendlies v USA and Columbia (in New York), basically meaningless games but treated the whole trip as an extended celebration of the Champions league win in Istanbul, very enjoyable...

On arrival in Chicago, headed out to do some sightseeing, started with a nightt ime trip up the Sears tower. Decided to follow this with some world famous Chicago deep pan pizza at Giardellis - bad idea!!!! How on Earth American can finish one of these is beyond me, we ordered a 12 inch pizza between 2 of us, and couldn't even finish 2 slices each. When they say deep they really mean deep, you need scuba gear to get down to the crust...

After hitting a bar on Rush/Division Streets (full of England boys on tour), hit the bed and then out for the USA game the next morning. Met 2 young perky American college girls from Utah at the train station, who decided to abandon their plans to watch baseball and asked if they could tag along with us to the 'soccer'. Not a very traditional pre match build up, we went to the Field museum next door to Soldier Field stadium - saw the worlds biggest Tyranosaurus Rex 'Sue', and the stuffed 'lions of Tsavo', who ate 150 humans in Africa, a story depicted in the film 'The Ghost and the darkness'...

Good crowd at the game, dominated by England fans and ex pats, a 2-1 victory for England and then another night out on Division Street in a very English style party bar with the American birds... a good lie in for me the next day and a jaccuzzi before flying to New York, while Nick haeaded off in advance at some godforsaken hour.
Diary Photos
28th May 2005 Chicago at night
---
28th May 2005 Me up the Sears tower
---
28th May 2005 Nick and Chicago deep pan pizza
---
28th May 2005 DEEP pan Chicago pizza, lordy
---
28th May 2005 Chicago skyline
---
28th May 2005 Worlds biggest T rex, Field museum
---
28th May 2005 Lions of Tsavo, Field museum
---
28th May 2005 Soldier Field, Chicago
---
28th May 2005 American soccer chicks yee ha
---
28th May 2005 England v USA
---
28th May 2005 England boys on tour
---
28th May 2005 Madison Square Graden
---
28th May 2005 Yankee birds
---